We are a dedicated group of artists/guides. As part of the local artist community, we love sharing our knowledge and the insights of the Parisian art scene. Join us on an alternative adventure that will open your eyes and change the way you look at the city. We built our tours in order to show you the artistic neighbourhood of Belleville, let you discover Vitry-sur-Seine – Street Art Capital of France, share the secrets of the greatest Murals XXL of the 13th arrondissement, explain how the art history influenced the Street Art of Montmartre and learn about the spray paint graffiti during our stroll along Canal de l'Ourcq. Additionally, we are the very first company who developed an original From Louvre to Street Art visit, where we compare the masterpieces with its popular street art versions. If you are interested in contemporary art we also propose Gallery Tour in Le Marais, and if you rather stick with the classics – a traditional Louvre Highlights tour – is also available.
Kasia Klon – artist, tour guide, owner of Street Art Tour Paris
I was born in Poland but started living a nomadic life after turning 20 years old. First travelling with a theatrical group of Grotowski's students (Generacja 9/11) brought me to Turin, Italy where I stayed for 5 months to study Printmaking and Drawing on Accademia Albertina in 2008. In 2011 I joined the community of artists at Gowanus Studio Space in New York City while doing my internship in Cealum Gallery in Chelsea and working as a freelance graphic designer. 
I returned to Poland to receive my MFA with honours from The Strzemiński Academy of Art in Lodz, 2013; with a major in Printmaking and an annexe in Illustration. It was presented at the Best Diplomas of 2013, Prime Time exhibition. I was noticed by international art competitions and have taken part in very interesting projects around the world. Later that year, after following a muralist friend, I moved to Paris and created Street Art Tour Paris – tour-company that educates about Contemporary Urban Art. in 2014 I was named "The most Creative Polish Woman in France" by the Polish expat society of women in France (EmiPolka – Paryski Babiniec). 
In 2017-2018 I was one of the selected artists to reside in the most known art-after-squat in the heart of Paris – Rivoli 59. 
Currently, I'm still living and working in Paris, the city I genuinely felt in love with through my passion for art and experience in guiding.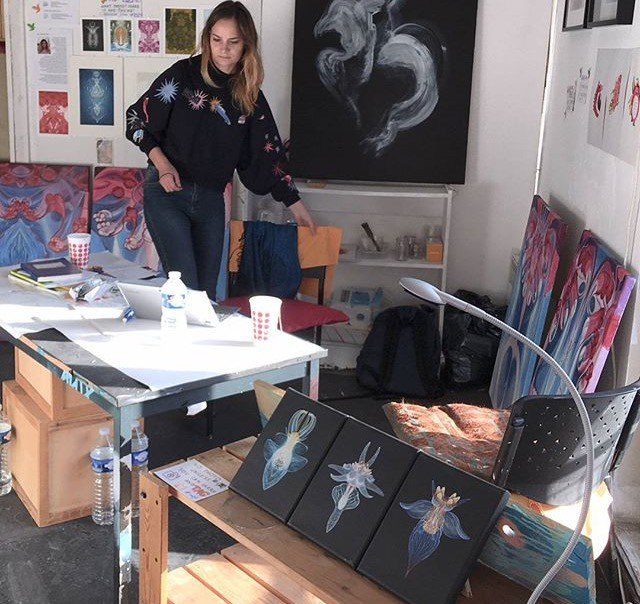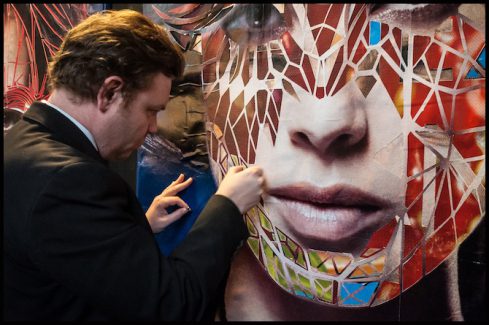 Thom Thom - artist, tour guide, co-creator of Le M.U.R.
French artist born in 1973 in Toulouse.
He gained his master at The École nationale supérieure Louis-Lumière (ENS Louis-Lumière) cinema school in 1998.
For few years Thom have taught cinema technology at EICAR.   
He currently (since year 2000) lives and works in Paris, developing his unique art style of cutting. 
While practicing hijacking billboards, Thom Thom also worked for Jacques Villegle, the famous Parisian décollagiste, from whom he have learned a lot. The simplest urban material became an excuse to create for these two artists. The greatest inspiration for Thom are New Realists and the Situationists.
Together with Jean Faucheur, Thom Thom have created an association Le M.U.R. (Module Urban Reactif) in 2003, that invites and hosts talents from all over the world while offering them a chance for free expression on the wall at Oberkampf street. 
Thom's works were presented at multiple important exhibitions in Paris, including that of Fondation Cartier in 2010.
Thom Thom is an expert guide in street art since 2013. He shares with our guests a unique perspective on the subject not only from the view of a professional artist, not only as a person behind Le M.U.R. association (collaborating and meeting urban artists from around the world) but also as someone incredibly passionate about street art movement itself.
Sigismond Cassidanius- Writer, artist, guide
He makes stencils and belongs to a group of collagists. He also writes press releases about other street-artists for their exhibitions and he animates a group on Facebook.His passion for street-art movement grew since the 90's when, together with his friends, he created the association JONAS. They have been involved in squatting the former Lycée Diderot (Pole-Pi) in 1995 until 1999 and organized festivals of urban arts in Montmartre. After his bachelor in history of Paris he oriented himself to the working class anthropology and the urban economy. He has been working for 20 years for the city of Paris as a pedagogical responsible. Today he shares his passion for urban artistry through guiding and his support of the Collective 3 Couronnes in Belleville.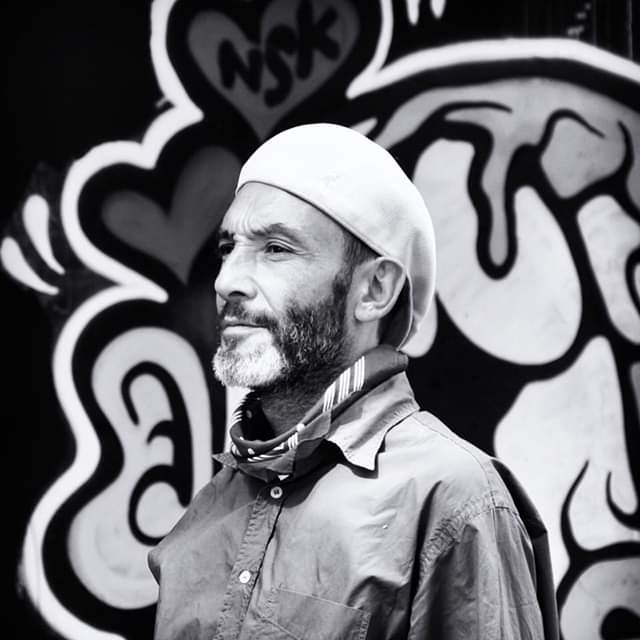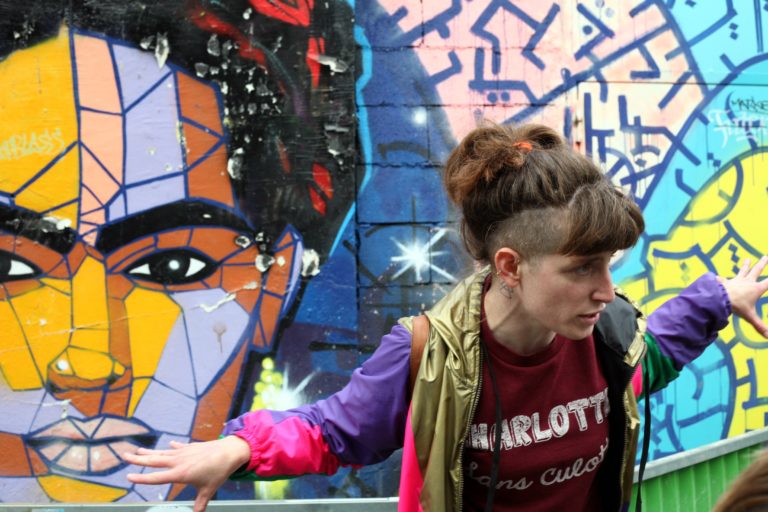 Charlotte – artistic soul, guide
Charlotte was born in Bordeaux in 1988. She moved to The United States at 18 years and went back after 2 years to go back to school. She graduated with a bachelor in Tourism, Art history and History. She moved to Paris in 2012 and have been working as a professional tour guide accredited by the Ministry of Culture for the past 5 years. She offers guided tours in neighbourhood, monuments and museums in Paris and its area. When asked what motivates her in her job, she answers : "Passion. Only passion motivates you to work in the snow on a Sunday morning." She is passionate about graffiti and street art and work with pedagogy and humour to achieve only one goal : give you a better understanding of this art movement that is now surrounding us.
Christelle – ARTISTIC SOUL, polyglot, guide

I am born in Lorraine in 1983. Since my childhood I am deeply attracted by travels and art. For this reason I started to work in the airline industry and I moved first in Srasbourg than in Paris. Thanks to my job I had the opportunity to travel all around the world and I even lived a few months in Thailand.
During these trips I discovered street art and it became quickly a passion. Every new destination was the pretext to search local street artists and their spots. 
One of the most incredible spots I had the chance to visit was 5 pointz in New York City that disappeared now, replaced by real estate program.
In 2015 I decided to leave quit the airline industry and to go back to school to obtain the professional licenced tour guide accreditation.
After 2 years of studies I started as a tour guide and I volunteered during the street art festival Ourcq living colors in Paris 19. It allows me to meet several street artists coming from all over the world. 
I feel now very lucky to combine my love for street art with my job!