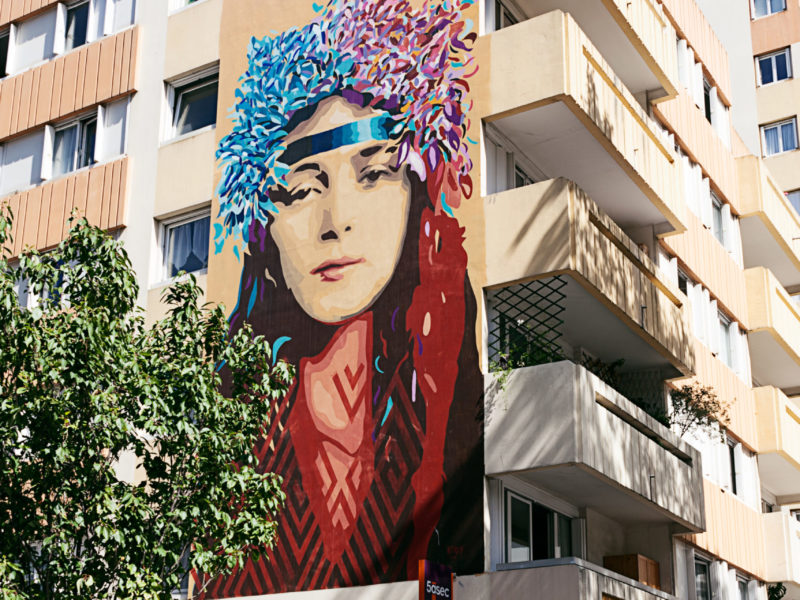 Post published:

July 13, 2021

Post comments:

0 Comments
The 74th edition of the Cannes Festival returned on Wednesday, July 6th. This year is a very special one. As you all may already know, last year the event was cancelled due to the pandemic. In addition to that, all cinemas have been shut down for almost a year. It caused damage to many professions linked to the 7th art. This year's festival is celebrating its renaissance on an international scale. We want to use this opportunity to talk about how film inspires street artists. It is the perfect occasion for us to dig up some awesome murals that manifest the connection between the two worlds.
The most famous French actress Marion Cotillard is under the spotlight during this festival. The actress plays a famous opera singer in Leos Carax's new movie "Annette" which opened the festival. This intriguing and poetic film will be another turning point for the already successful actress. The portrait of the beloved French actress can be seen at Canal de l'Ourcq (located in Seine-saint de Denis). This mural was made by BK Foxx, an American artist from New York. She admires the actress for her engagement regarding environmental issues. BK Foxx's hyper-realism style is something to be admired, even more so regarding the fact she is self-taught. Indeed, the portrait looks exactly like the original photo taken by Studio Harcourt. She wants us to be conscious of the reality of her world. Marion Cotillard is an interesting choice, she is the incarnation of French chic and glamour.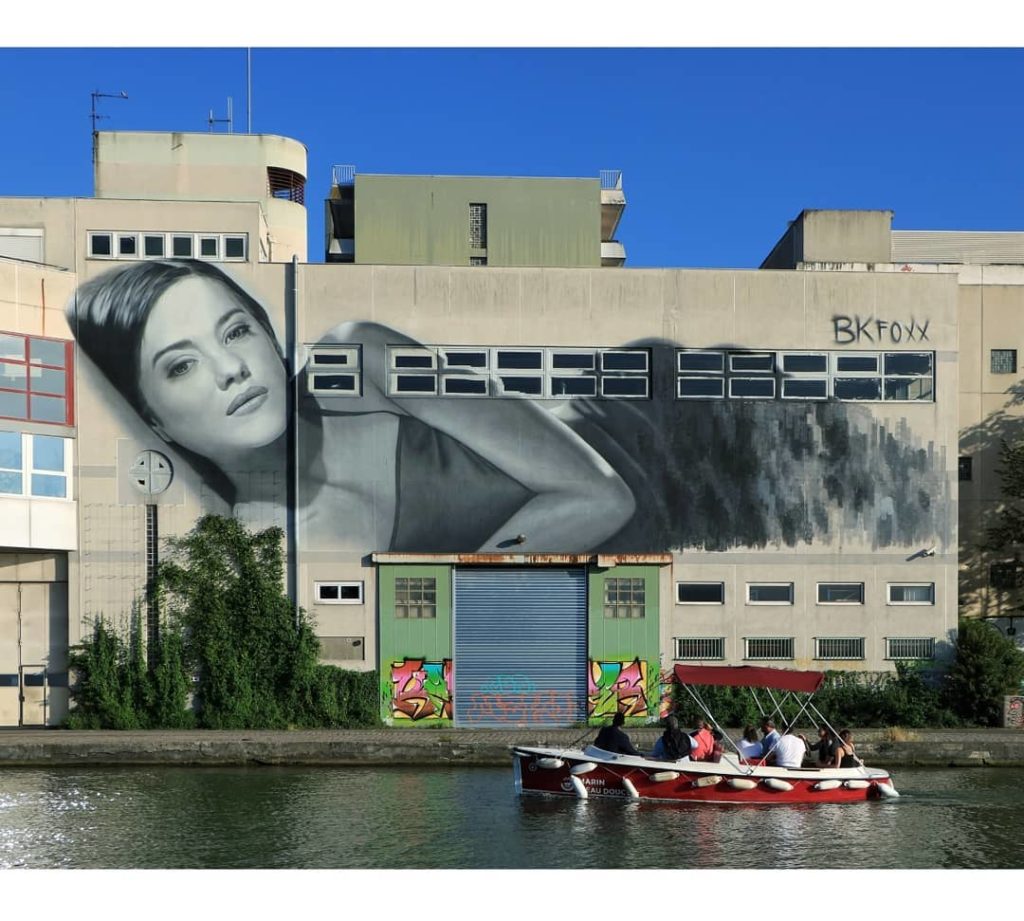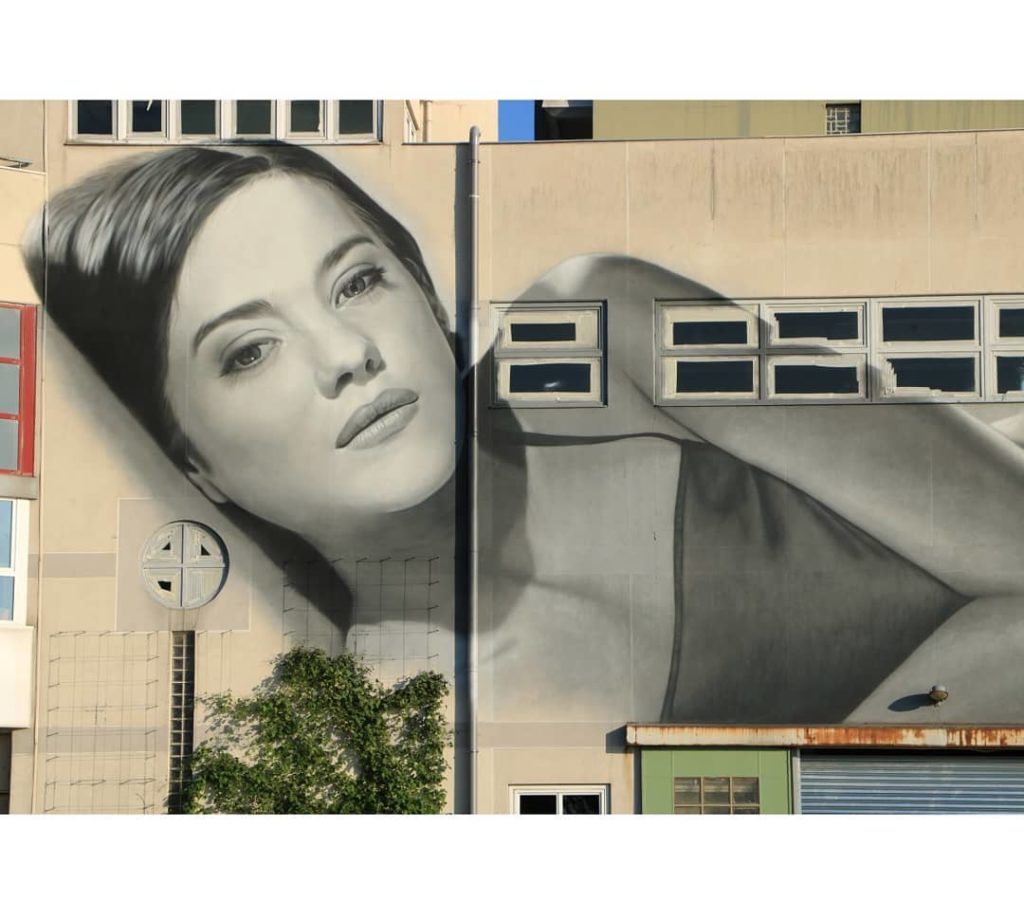 Mk2, a French cinema chain, has just opened a Hotel Paradiso last May in Paris. It is the first hotel cinema in the city of lights. There is a private screen in every room. This new concept hopes to attract film buffs from all over the world. To inaugurate this new place, famous photographer JR produced two large paste-ups visible from the windows of the hotel. It completes the idea flawlessly by paying homage to some of the greatest legends of the movie industry. The first one depicts a scene from Charlie Chaplin's movie called "The Kid" (1921). The second is from Harold Lloyd's "Safety Last" (1923). It is a great example of street art corresponding with the environment. The artworks transport us to the silent film era, far away from today's preoccupations.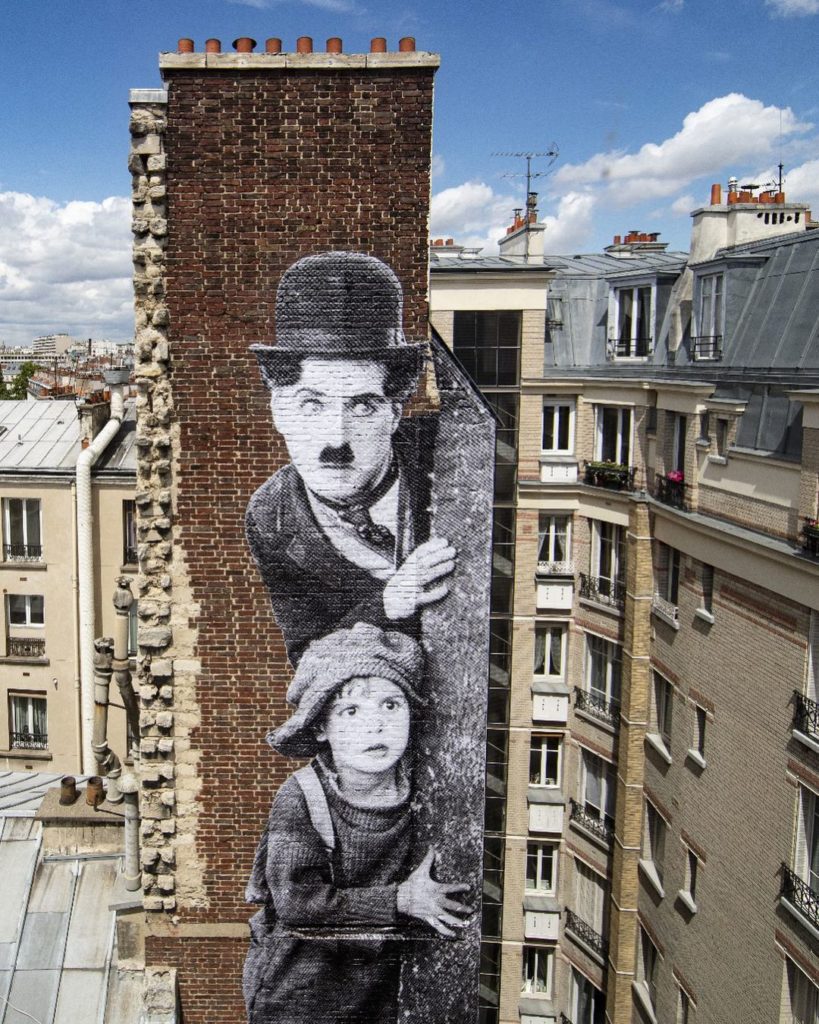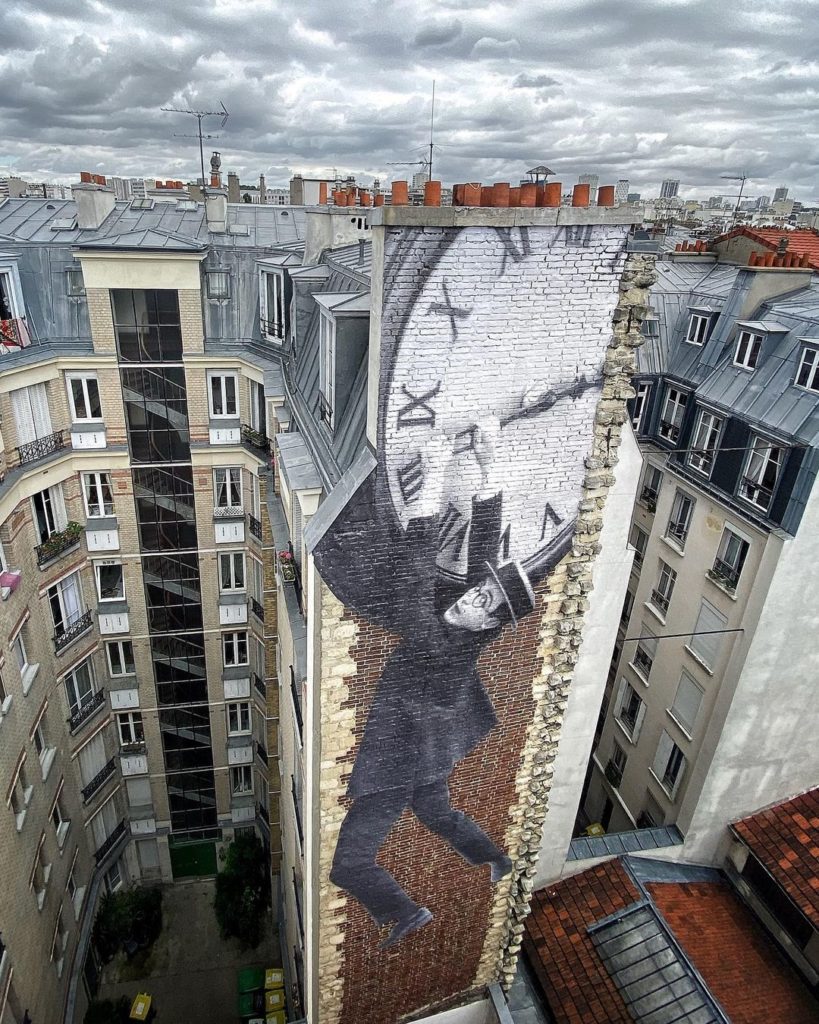 Spanish artist Btoy has also paid a tribute to the silent film era. In the 13th arrondissement, among other XXL murals made by worldwide known artists, stands the portrait of a forgotten actress named Evelyn Nesbit. The American actress was also a dancer and a cabaret performer during the crazy years of the 20s. She began her acting career in 1914 and was considered America's ideal woman. Btoy's real name is Andrea Michaelsson. Her nickname Btoy comes from ''Be a toy" which is her statement of disconnecting herself from the graffiti subculture ("Toy" in graffiti slang is an insult). Through her art, she celebrates historical women, who have inspired her. This colourful and detailed stencil wants us to think about the fight for equality between women and men. Often forgotten, many women have contributed to this world. The artist wants to pay tribute to them. With this motivation, she creates remarkable works. You can book a tour with us, to come and admire this work and others located on Boulevard 13!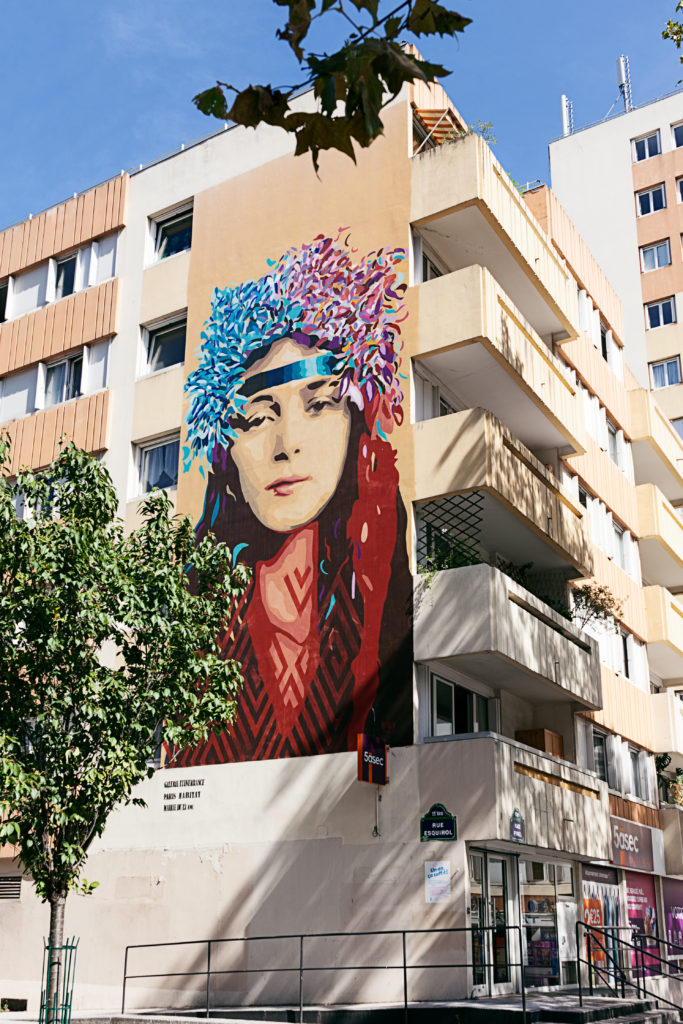 Speaking of gender equality, this giant version of a César is a direct comment on what happened during the ceremony of 2020. Despite the confirmed accusations of child abuse, director Polanski won the César for the best director. It caused turmoil and outrage among the feminist movements and a never-ending debate in the world of cinema. The question, "Should we separate the artist from the man?" Everyone has his own opinion about the subject and with this artwork artist Djalouz makes a strong statement. This reward was an insult for every woman and as the artist wrote it in his work, it is a shame. The statuette is diverted from its original meaning. We can see a child being beaten, or the face of a woman who is scared. The number 12 may be a reference to Polanski's victim's age. The place of women in the cinema industry is still very undermined. Plus, many have reported sexual harassment at some point in their career. The artist wants to shed light on these stories. Gold colour is always part of his work. Gold represents luxury and is now accessible to everyone in the street.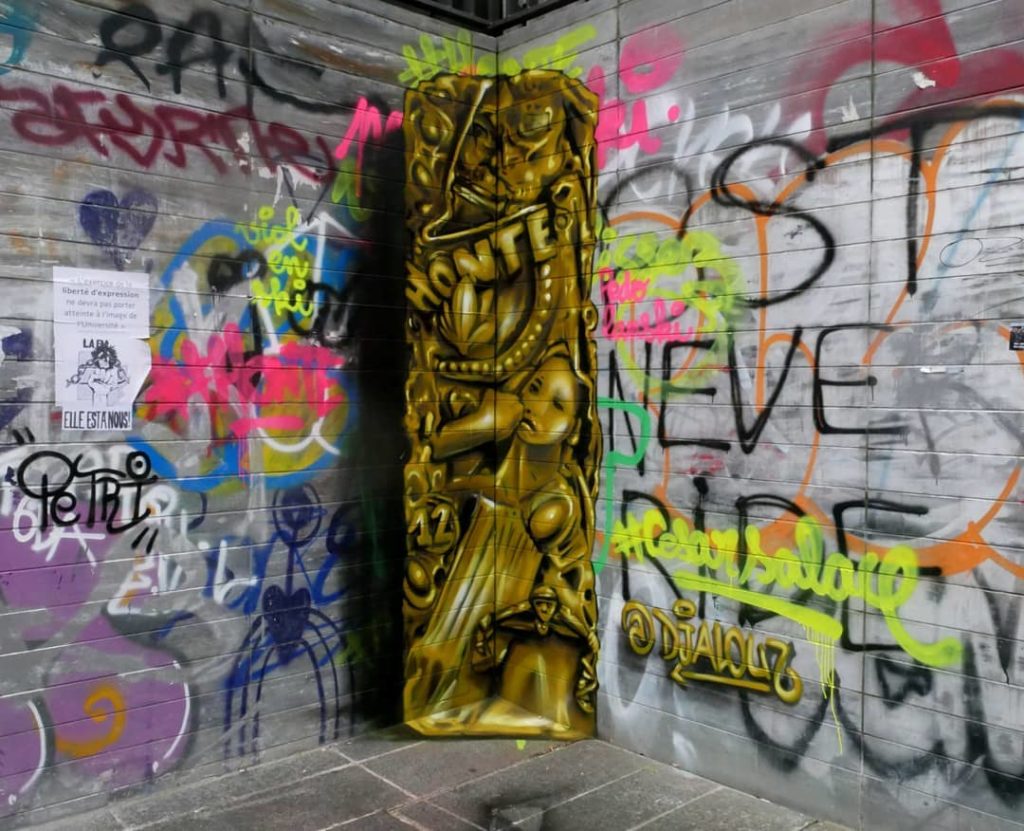 To end on a lighter note, let's have a look at these wonderful stairs painted by artists Zag and Sia. Located at rue du Chevaleret, the anamorphic painting depicts the meeting between the Pioneer of the animation – Walt Disney with the face of the surrealist painter Salvador Dali. The background is inspired by Dali's universe. Walt Disney is portrayed as a shadow with a bluish tone in a contrast to a lively and colorful portrait of Dali. It is a reference to the short animation movie "Destino", a collaboration started in 1946 that was finally finished and released by Disney's studio in 2003. This is where art meets cinema at its best.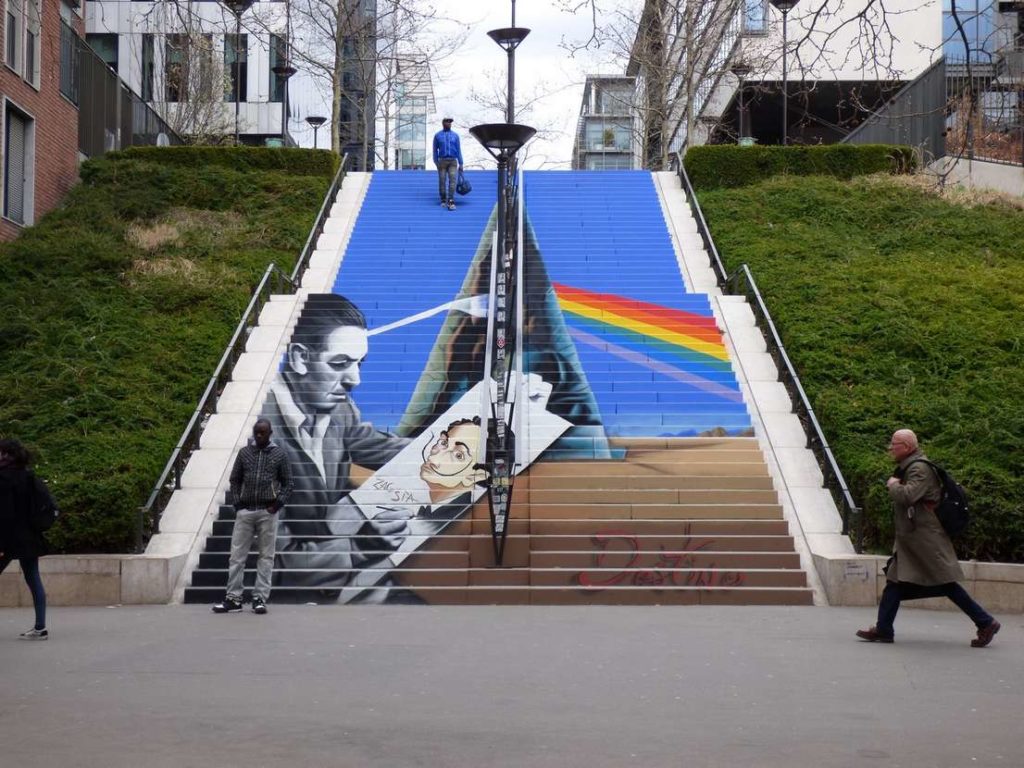 To discover more street arts related to Cinema, you can check out this Instagram account: @streetartcinema. For more information, you can also book a tour with us. Don't forget to look around you when you go out, you may see beautiful artwork hidden somewhere while you're on your way to see a movie on the big screen.
Writteny by:
Lola Bikindou