Address: 5 Parvis Alan Turing, 75013 Paris
Former rail freight depot is now a home for Station F (a business incubator for startups), and La Felicità – currently the biggest of Big Mamma Group restaurants in Paris. Place includes a 1000m2 sunny terrace, 3 bars, several different Italian cuisines, and a cafeteria. Trains are great canvases for graffiti writers and street artists. Big Mamma decided to keep that artistic vibe by inviting them to decorate the space; The impressive spay paintings on train wagons and big lanterns were done by many popular local street artists including Jerome Mesnager, Oji, Tetar, Mr Pee, ChaNoir, Bault, and many others. La Felicita hosts special events, exhibitions and concerts. Great place to visit after our Murals XXL Tour (click here to book it).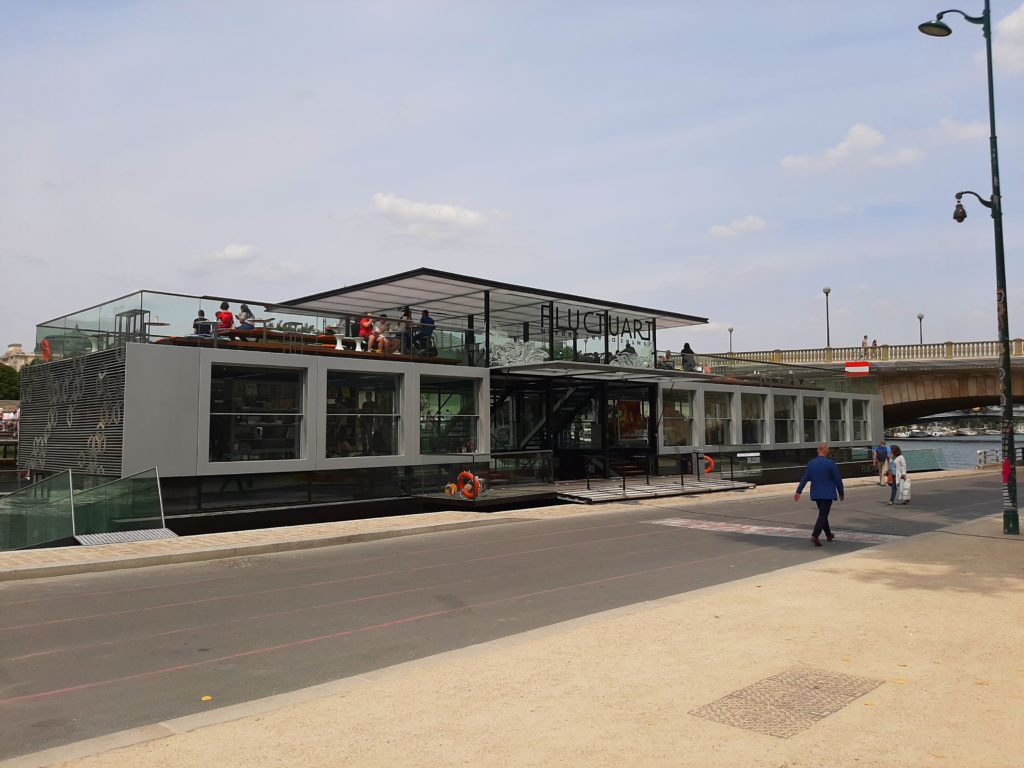 Address: 2 port du Gros Caillou, 75007 Paris
Just recently opened – first Street Art Museum on water! The boat has three levels: Bottom is reserved for temporary exhibitions (currently presenting works from Brooklyn based artist Swoon), middle level has a permanent collection of some of the most representative artists from around the world including Futura 2000 or Vhils, and the upper level is reserved for a bar where the menu is printed on old spray cans. Fluctuart organizes great events and concerts in the evenings, and during the day, workshops in collaboration with Le Musée en Herbe. You can also find a bookstore here – All dedicated to Street Art!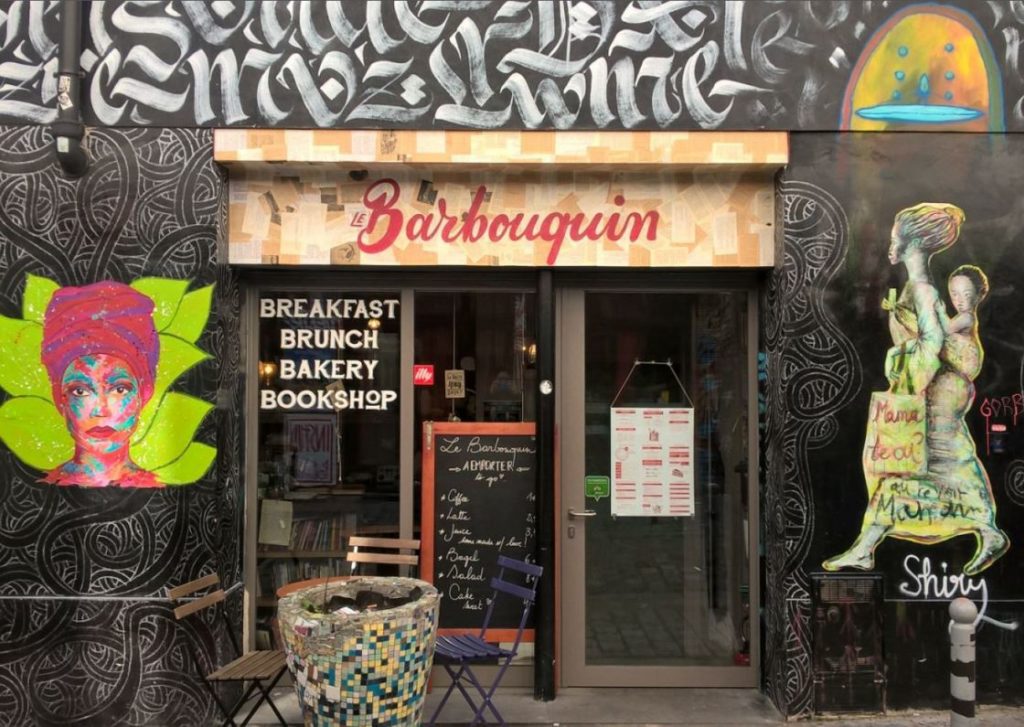 Address: 1 rue Dénoyez, 75020 Paris
If you want to feel the real spirit of Belleville (the most artistic neighbourhood in Paris) you ve got to visit Barbouquin. The name is a mix between the words "bar" and "book". The place is based on the everchanging Graffiti Street, where every day a new piece pops up. The owner of Barbouquin – Yohanna Uzan – has a great deal with local artists, allowing them to enter the walls outside as well as inside. Check out some great artworks by Stew, Prwnd, Shiry, Suriani and many, many more! And during the weekend come to listen to some original live music performed by talented young artists like Theko, Gatica or Fuensanta Mendes.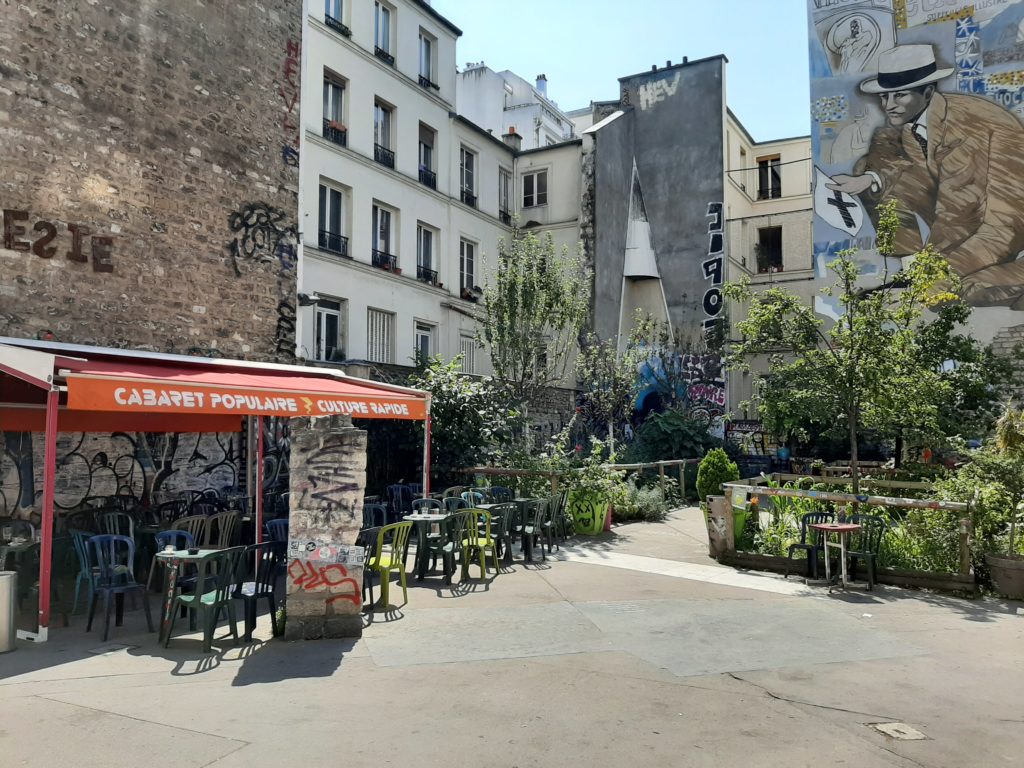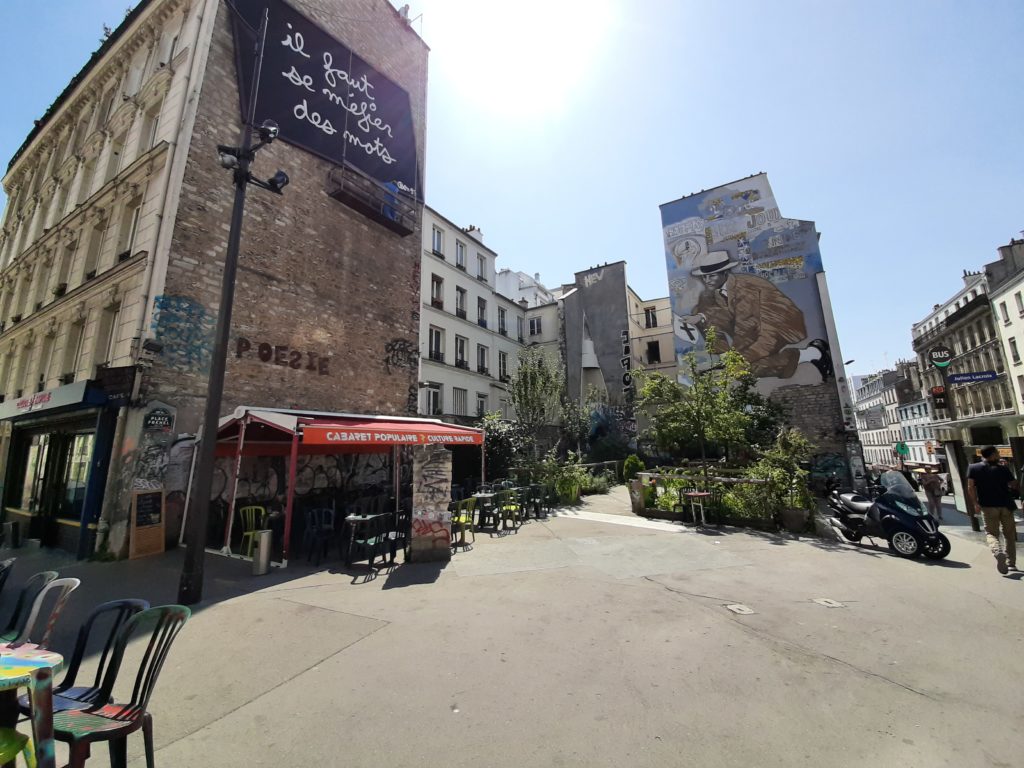 Address: 103 Rue Julien Lacroix, 75020 Paris
Best is to visit Culture Rapide during the summer when all the tables are moved to the terrace next to the community garden and many colourful spray paintings. Two biggest walls are taken by Ben 93 and Jean Le Gac. Originally there was a building connecting those two walls, but the city decided to demolish it while building the new metro line that goes just bellow Rue Belleville (line 11). Culture Rapide is, in fact, more than a bar, it has a vibe of a small cabaret in Montmartre in the late 1890s. Local artists meet up here to play music, participate in the open mic or to take part in Poetry Slams.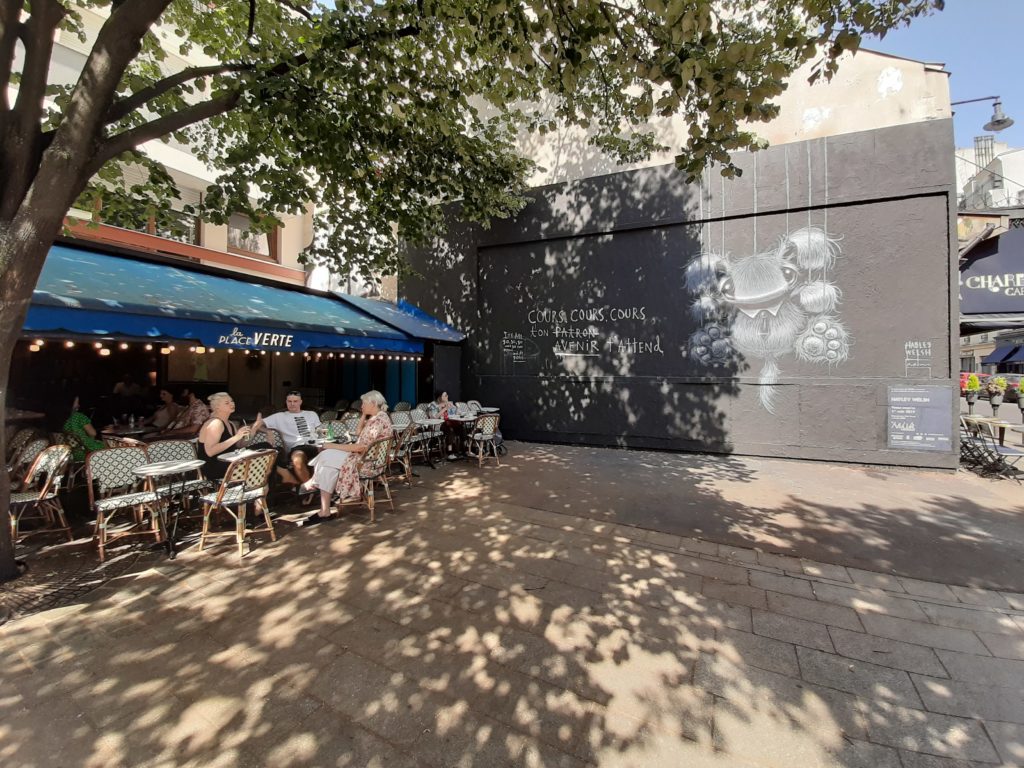 Address: 105 Rue Oberkampf, 75011 Paris
Named after the former green wall (that you can still see in the video clip by the band Beirut, for their "Nantes" hit from 2007) this is a spot to visit while in Paris. Twice a month Association Le Mur is inviting an artist to paint the former billboard located just in front of their terrace. If you come at the right time (join one of our Belleville tours on Saturdays!) you would be a witness to a live performance. The place allows the association to keep some of the materials inside, and they offer free drinks to celebrate the inauguration of every new wall. If you stay there, you have many possibilities to meet the artists and event organizers. So far La Place Verte hosted more than 280 artists from all over the world including stars like: Logan Hicks (USA), Mist (France), Stinkfish (Mexico/Colombia), Bordalo II (Portugal), Reka (Australia), Herakut (Germany), Roa (Belgium) and Pener (Poland) to name a few.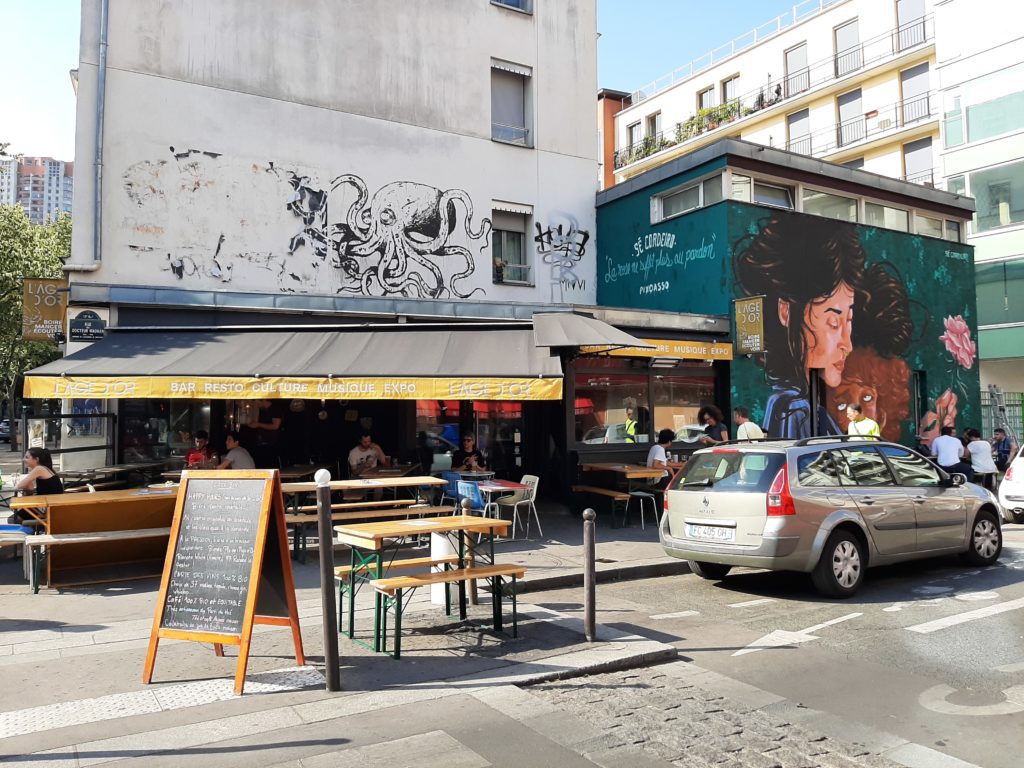 Address: 26 Rue du Dr Magnan, 75013 Paris
Similar to Le Mur, this place has its wall reserved for live performances. They change their facade every two months. Other than that you can find here some interesting exhibitions, ateliers and lots of interesting concerts.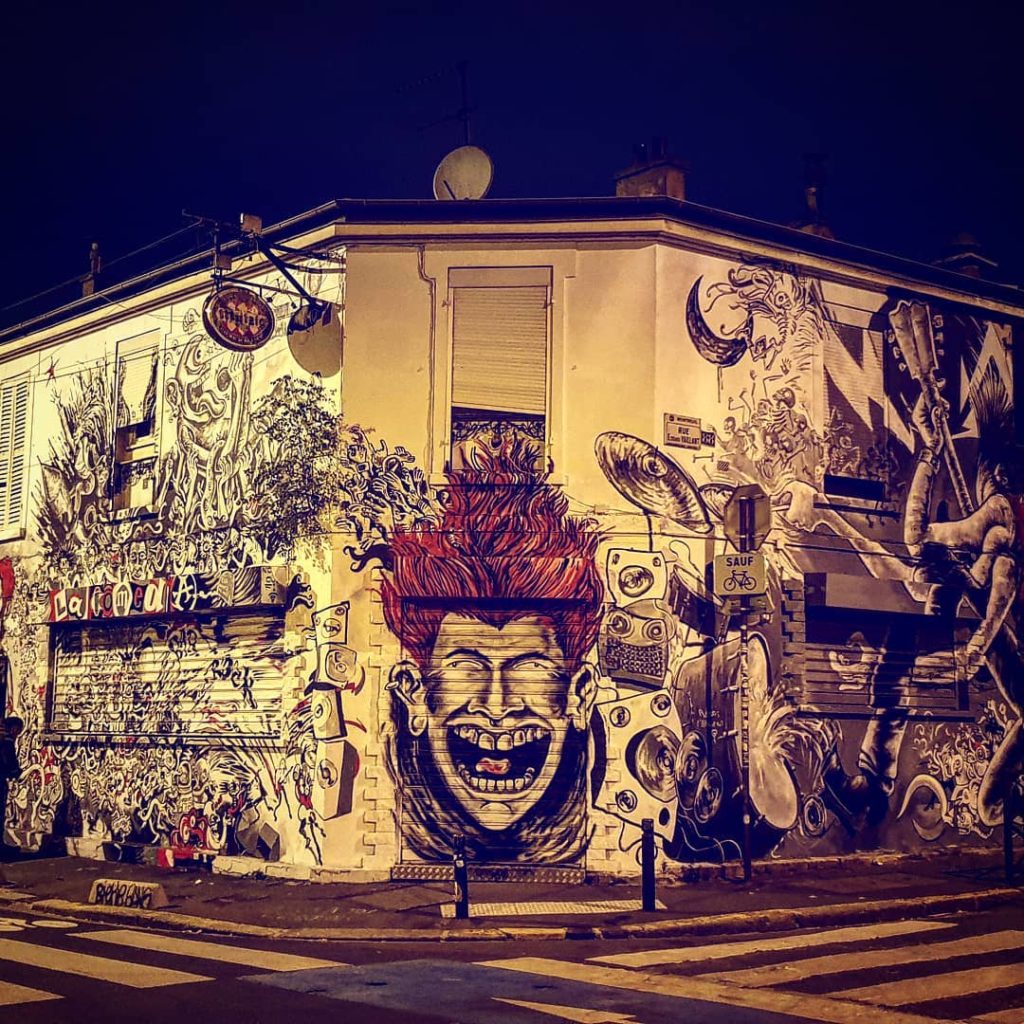 Address: 88 Rue Edouard Vaillant, 93100 Montreuil
Some people are calling Montreuil a Brooklyn of Paris… and there are some reasons for it. Many artists can't afford to live in Paris, therefor majority of them are living in close suburbs, like Vitry, Ivry, Saint Denis, Pantin or MONTREUIL. Montreuil is full of artists ateliers and great places to hang out. La Comedia stands out among others with its awesome alternative vibe. Come especially if you are interested in discovering new talents during the jam sessions.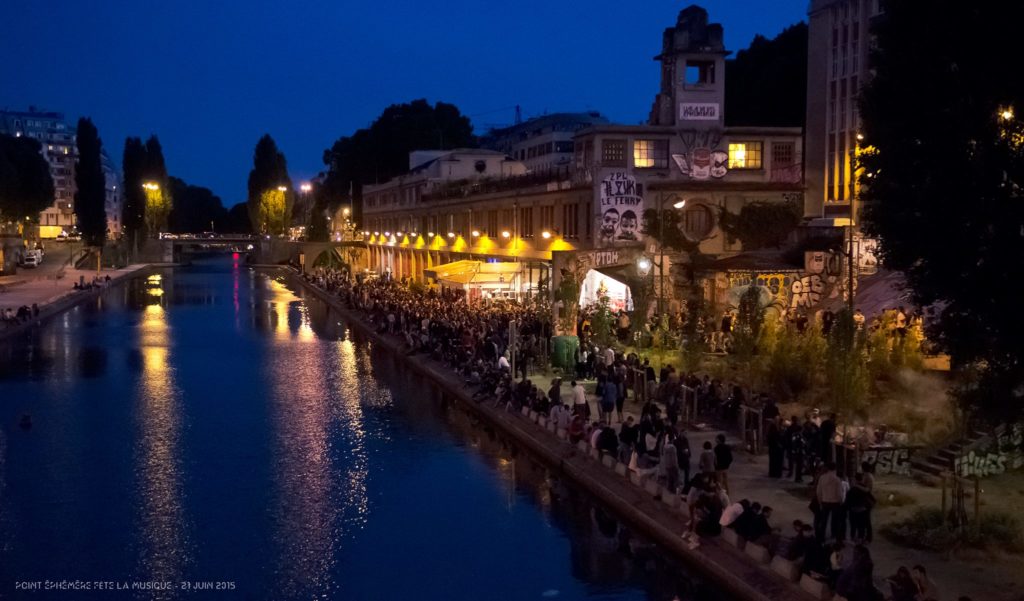 Address: 200 Quai de Valmy, 75010 Paris
Everybody who lives in Paris knows Point Ephemere. Its great exhibition and concert space. Outside there are some walls reserved for their invited artists (currently YZ and YAKES), but most are open for anyone who can express themselves. Among others, you can find works by artists like Invader, Mr Bmx, or our friend Vic Oh. The place is just next to the water, was formerly used as a fire station. Group of
people have turned it from the abounded squat into an artists residence spaces (4 artists' studios, a dance studio, 5 music rehearsal studios). Today is probably one of the city's most popular places.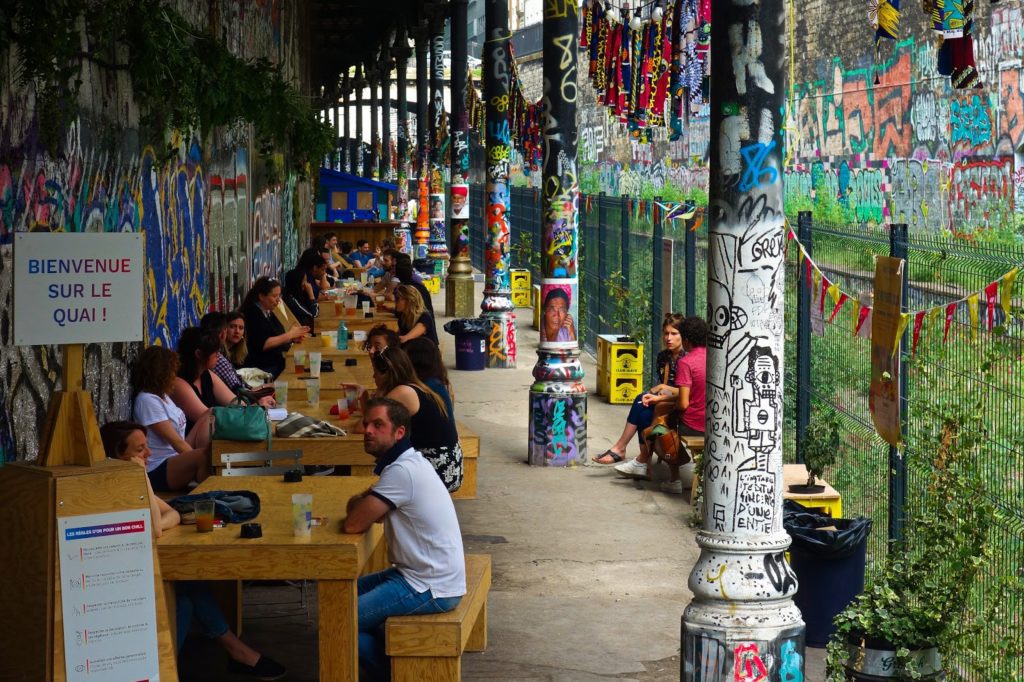 Address: 128, avenue de Saint-Ouen, 75018 Paris
Based on the old train station this place is a mix between a club, a restaurant and a bar. The terrace is based just next to the old train tracks where you can see some of the city's oldest graffiti as well as the brand new ones – some in the making in front of your own eyes. The place is constantly evolving and it is a pleasure to watch.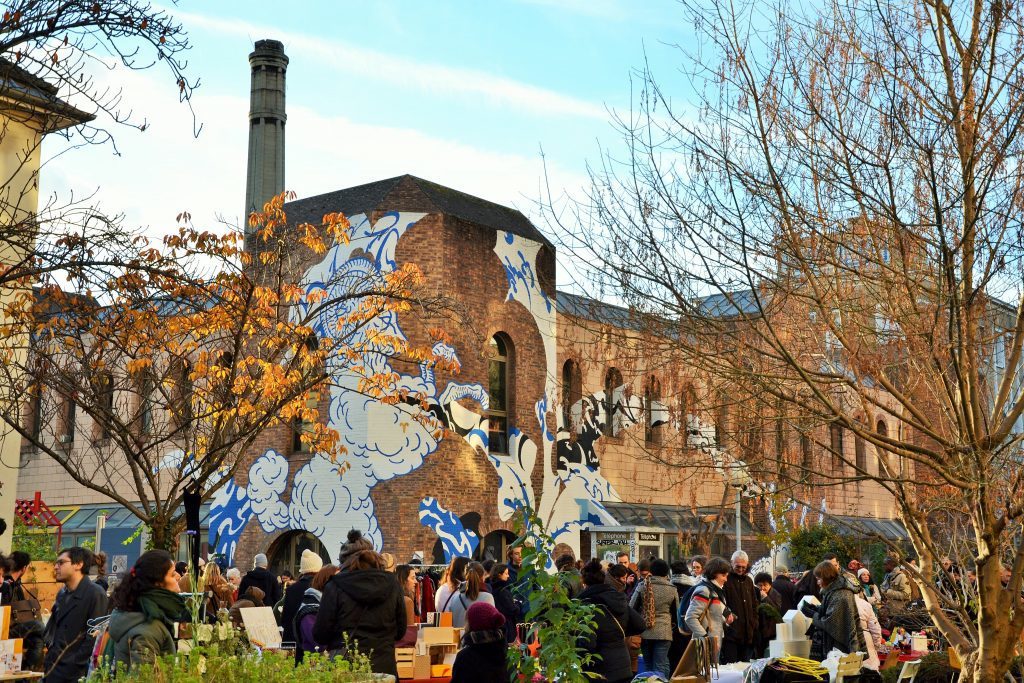 Address: 74 Avenue Denfert-Rochereau, 75014 Paris
Not far from the official Catacombs, here s another gem worth your attention. Grand Voisins is a community of asylum seekers recently arrived in Paris, hundreds of associations, artists, craftsmen, and
young companies developing their activities. The place has great home-cooked food at a good price and they make their lemonade. Originally a hospital, Grand Voisins It is a temporary project that would likely close down in 2020. Walking around notice great murals painted by Jace (la Reunion), Alexone (France), Jean-Baptiste Di Marco & Romain Render (France), Kouka (France/Congo) and all the rest wonderful street art there.
Some other great places that did not make the list, but are also worthy of recommendation: la péniche Grande Fantaisie, 104, La Maison des Frigos, Le Jardin d'Alice, Café Mama Kin, La Mutinerie, Les écuries. What do you think about our choices? Do you agree or disagree? Would you recommend some other places? Let us know in the comments!
Article written by : Kasia Klon