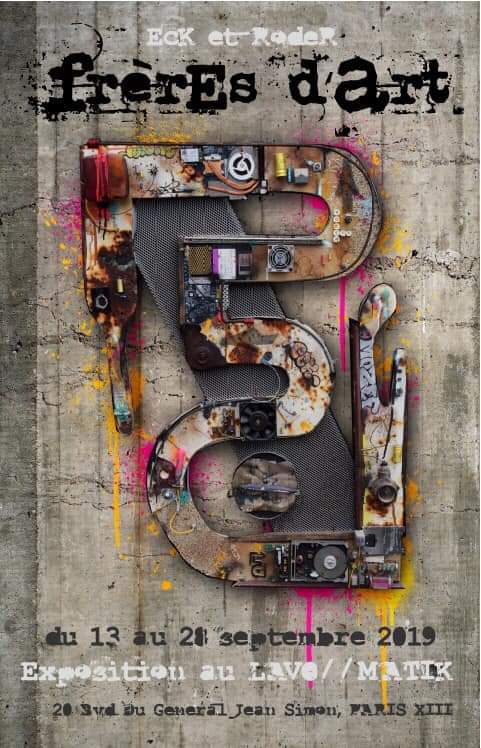 In the forest in Brittany is a clearing where the Leprechauns like to gather to play a game called Brothers of Art. They may be as many assistants as the two brothers need. The Leprechauns dance and sing along in a lovely merry-go-round. Everybody's invited in the middle is supposed to name a new material that can be used for a canvas, until their ideas come to an end. When a foreigner lost in the moor can name a new material, they cover him with gold!
The two painters are brothers but mainly artists. They have been inherited of the art taught by the dwarfs, the blacksmiths of the ancient mine, masters in the assembly of metals. They know how to mound the amber with iron.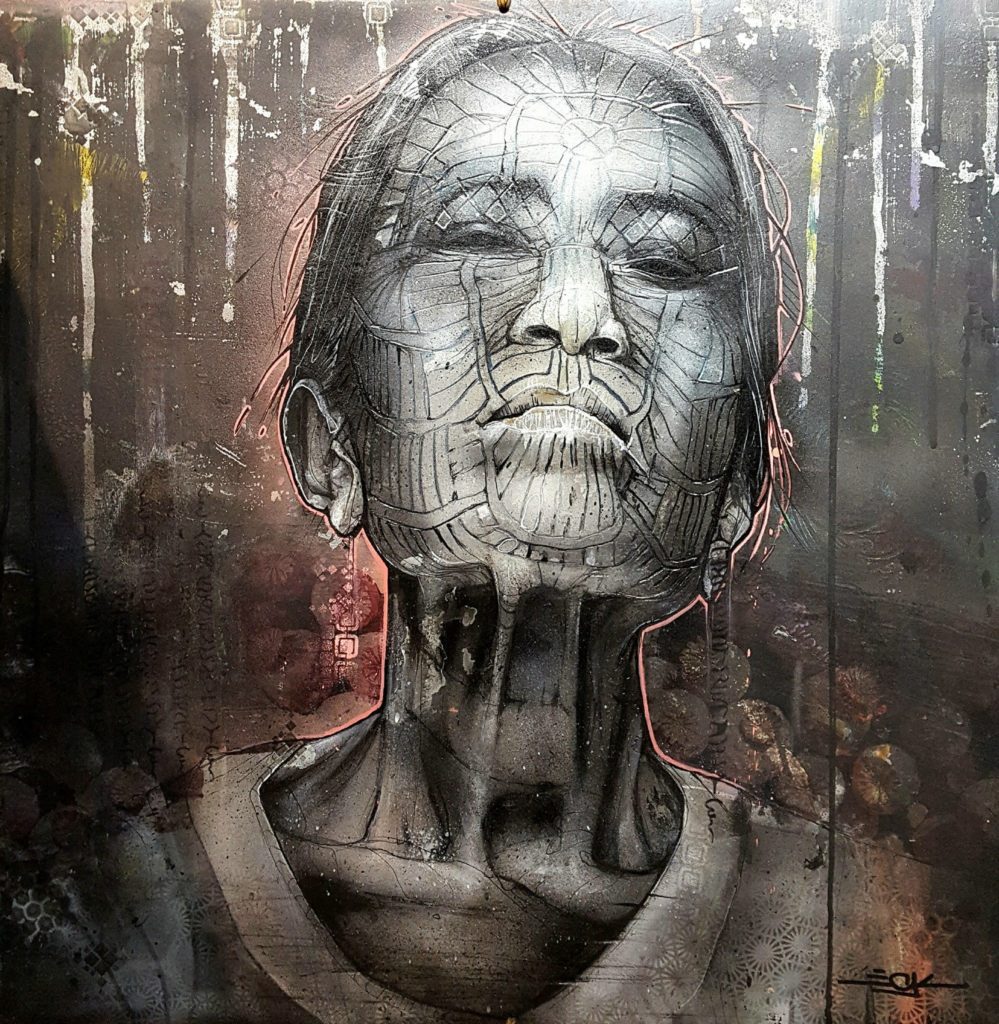 Freebooters of rust and master mariners of driftwoods, they operate and no one is better commanding at our emotions. The corrosion of the metal and the work the sea has done upon the wood, form the background of the canvas and the layers of their stencils appear coordinated. I am thinking of the portrait of this woman who reminds me of Bouche-Dorée, one of  Corto Maltese's ghosts…
But here no cross, Monk, nor Calvary in the very universe of the brothers. Their cosmogony is telluric, maybe after the Norwegian tale of the struggle between mighty giants who spread their bodies across the earth. It's a pagan universe, but not godless.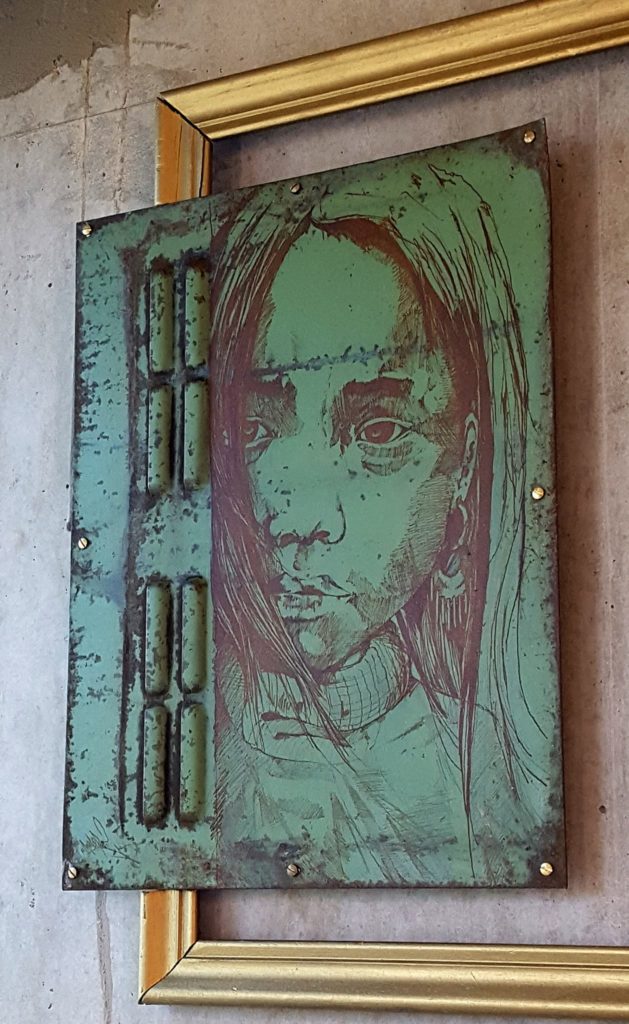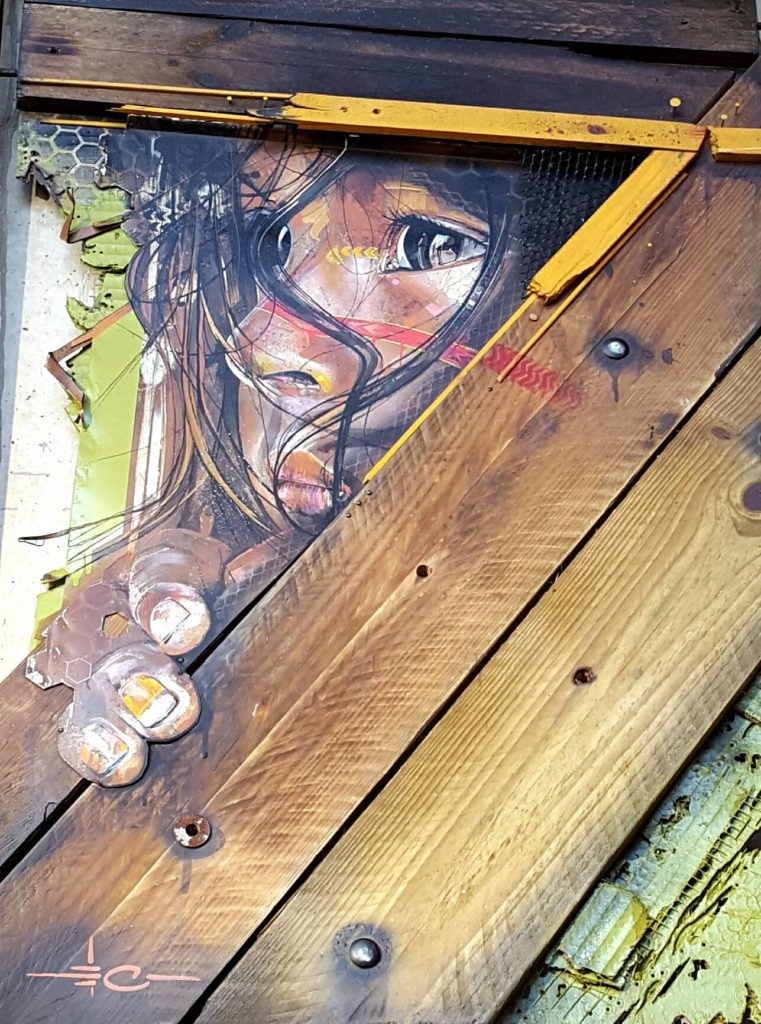 In the little music they orchestrate lies the smart deconstruction of the clichés, all these pictures we know by heart, in their assemblage of each detail to make it sound. They reach the coda when a spectator recognizes the original tune when he makes up his mind about the first history of a second-hand part. It's like a revelation that leads him along the shore until the forest of signs, which the two brothers in art like to install deep in their canvas. Like a treasure.
The quantity of portraits tells a lot about how much they consider meeting people is important in their work. They are so many different that sometimes when I am on the ground, I feel like if I had been invited by the Leprechauns in the ronde…
VERNISSAGE ON FRIDAY 13/09/2019 ! at LAVO//MATIK
Exhibition from 13th to 28th September
20 Bvld du General Jean Simon, Paris 13eme
Post written by : Sigismond Cassidanus