Since it started, counterculture has always been the essence of street art. Artists take the right to express their thoughts, mostly by showing their disagreement or support to a chosen cause. The fight to assure LGBTQI+ rights is often a motivation, especially during Pride Month. Even though Paris is considered one of the world's most LGBTQI+ welcoming cities, life can still be challenging if you belong to a more conservative circle. To celebrate diversity, multiple rainbow-coloured artworks appear every year on our streets, especially in June. This year the most impressive work is located on Quai d'Orsay underneath the bridge of Alexandre III.  In order to be seen from the sky, the 150 meters long piece was painted on the floor in front of Rosa Bonheur sur Seine – a popular LGBTQI+ friendly bar and nearby Fluctuart – the first floating urban art center.
Pimax – the main author – is an urban artist and activist from Montreuil known for his iconic red dog called Nourf. Cute and subversive at the same time, Nourf is portrayed while spreading an enormous rainbow with his giant spray can. Other artists were invited to participate: Monsieur Bibi, MG La Bomba, Jo Ber, Zenoy and R.PI. Apart from celebrating pride month, this work was also made to celebrate the comeback of Paris' nightlife and cultural activities.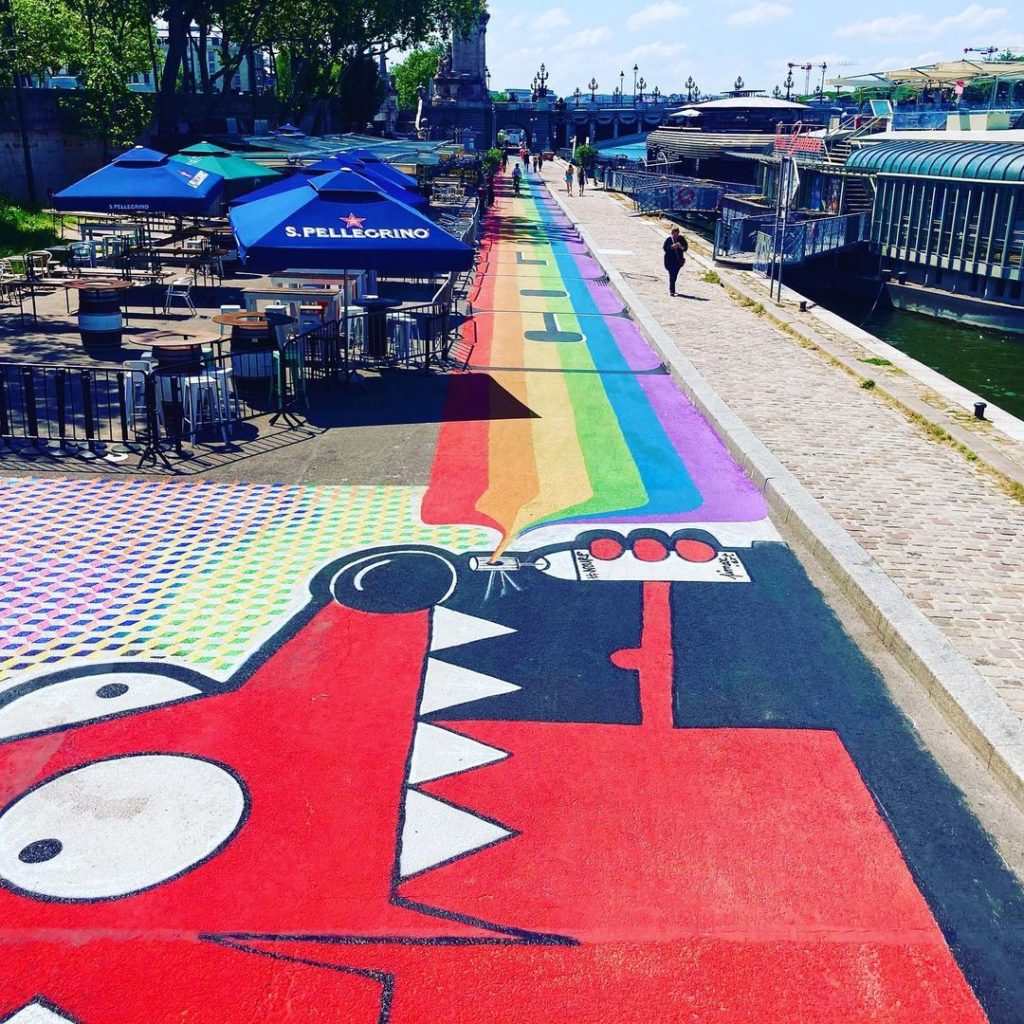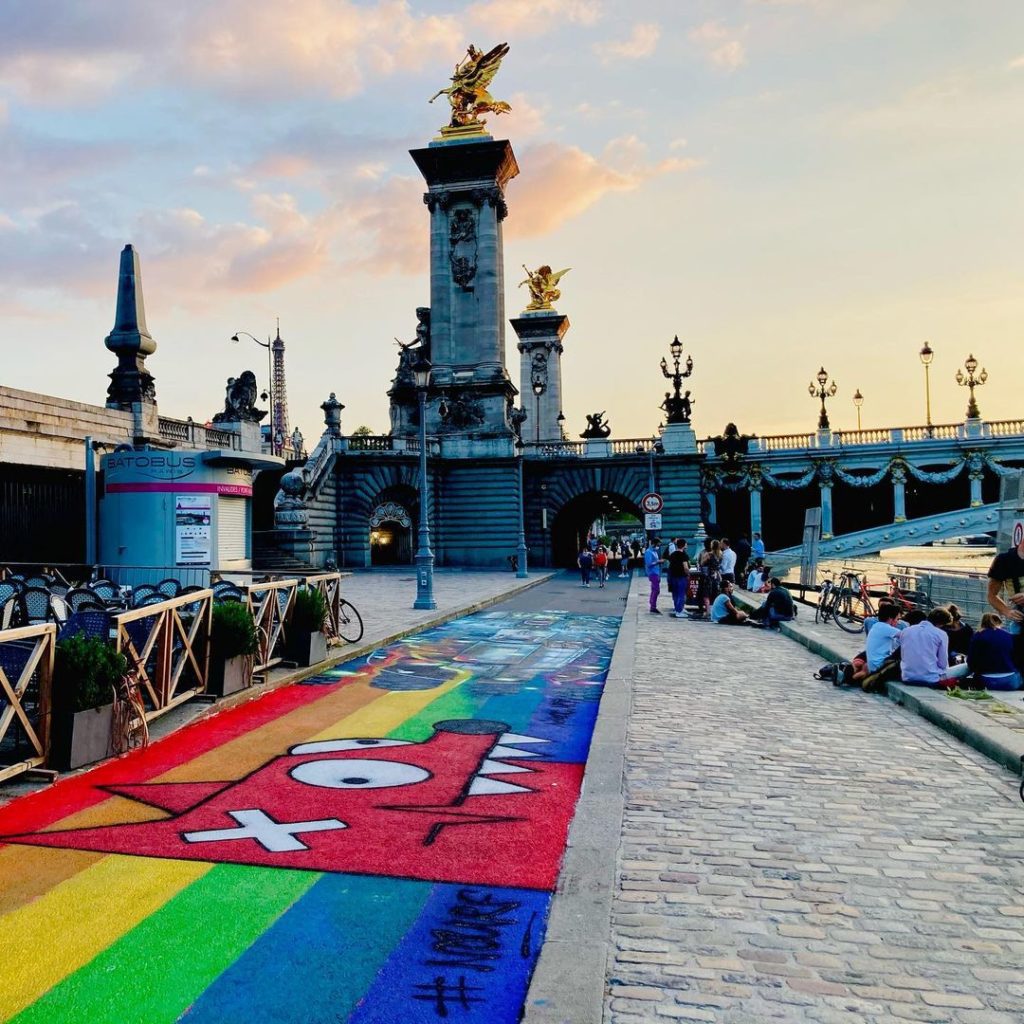 In 2019, a colorful, 360° mural was brought to Le Marais, on 95 rue du Temple. It was a winning project from a public art competition hosted by the City of Paris. Selected out of 720 proposals, UP/SIDE/DOWN/TOWN represents historically famous LGBTQI+ places in the city, some that no longer exist. It also represents the evolution of moral standards accomplished by the LGBTQI+ movements through time. Since this evolution is still ongoing, this artwork is part of the process of spreading tolerance. It was painted by a Copenhagen-based English artist, Daniel van der Noon and curated by The Street Society.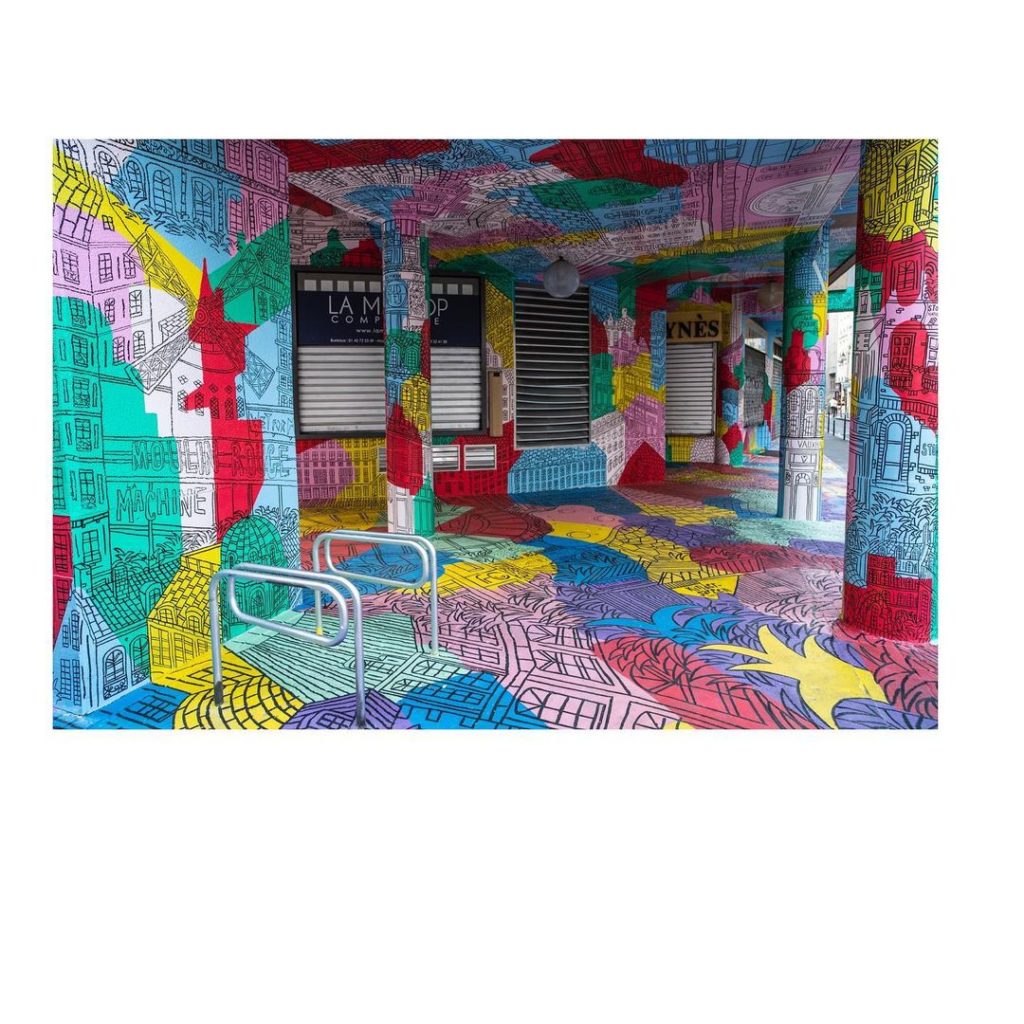 Combo C.K. is another artist who is supportive of LGBTQI+ rights. A lot of his artworks can be categorized as Queer Street Art. As a matter of fact, he is the one who reinterpreted the famous comic Tintin as a gay love story between the titled hero and his co-star Captain Haddock. In July 2018 he unveiled a mural at Rue des Petites Carreaux in the 2ème arrondissement. The two characters share a passionate kiss displayed on a big wall in Paris. Their love is not a secret anymore.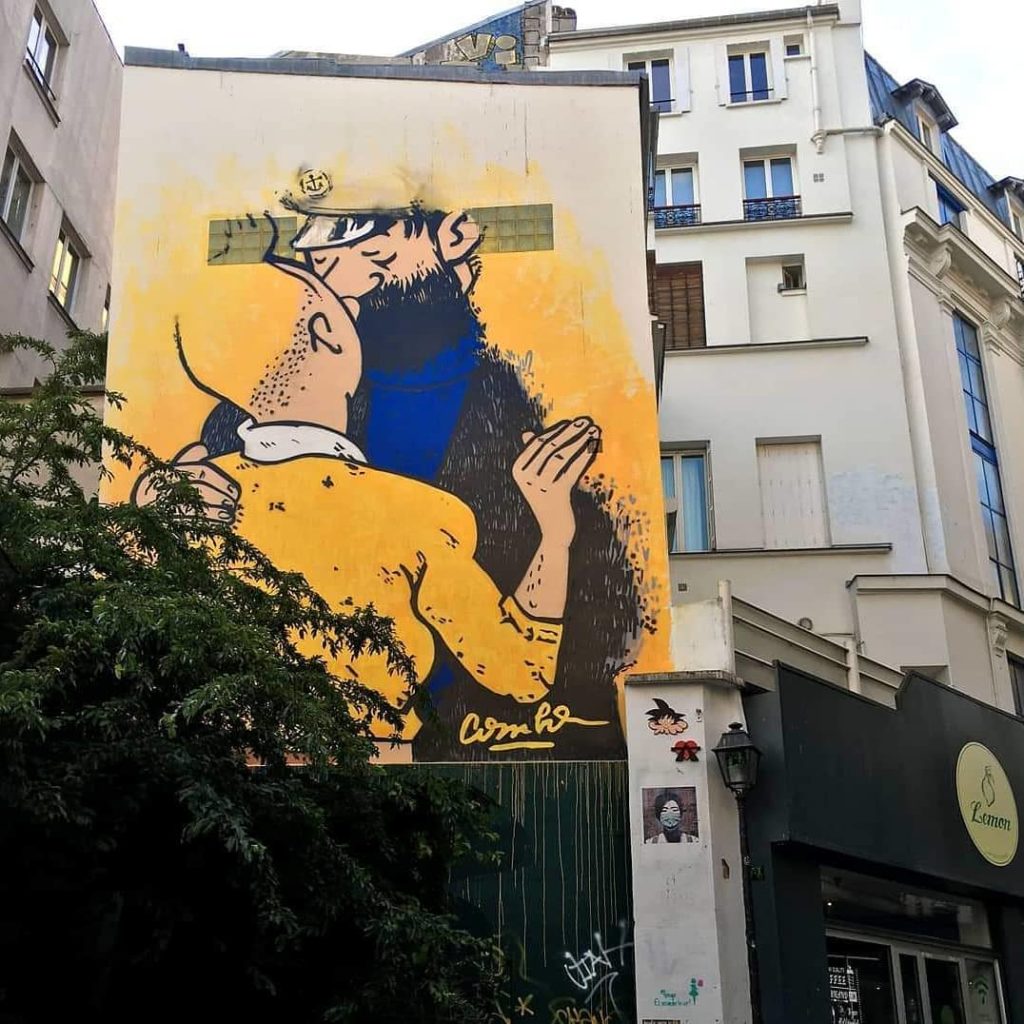 A member of the LGBTQI+ community, Kashink is the artist and activist who founded the project 50 Cakes of Gay. It all started in 2013 when she painted the first cake on the streets of Paris in support of gay marriage and equal rights. She then continued painting them all over the world. Her artwork is not only aesthetic, but strongly political as well. You can find it all around Paris. Kashink has a vastly extravagant and creative universe. We recommend checking out her incredible talent and following her on Instagram for updates. @kashink1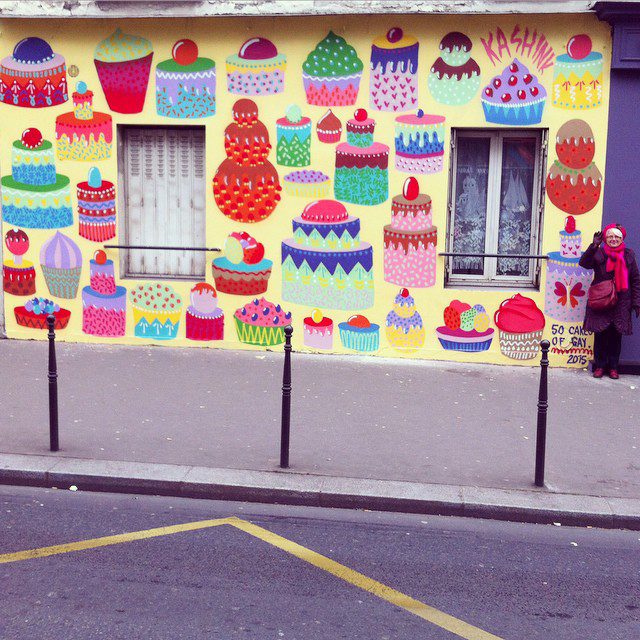 There are many more artists involved in the LGBTQI+ rights movement, and many more pieces of arts hidden in the streets of Paris. To discover more of them, you can book a tour with us.
 Happy Pride Month!
Written by : Lola Bikindou