We have just entered the new year of 2020! How exciting?! We are planning to host many more tours this year and add some new paths to our menu. Every year there is more to see in the city of lights. Let's have a quick look back at the most amazing new walls and art projects from the year that went by. It was really hard to choose but finally, we were able to select 10 most favourite projects. Here they are:
.
10.
Seth's tribute to Zoo Project – Art Azoï
We want to start with this wonderful tribute to Bilal Berreni known as Zoo Project. The artist was murdered in Detroit in 2013 at the age of only 23 years old. He was quite known in Paris for his large black and white characters. Some of them still remain in the city, although the majority is unfortunately gone. He lives in our memory and many local artists continue to refer to him in their works. Our favourite one was done this year by Seth Globe Painter, who you may recognize not only for his beautiful murals but also for a popular travelling show Les Nouveaux Explorateurs on Canal +, which he hosted. 
.
9.
MIST – le M.U.R. Oberkampf performance nr 279
MIST is one of the old school French writers, recognizable for his bold style. He is one of the pioneers who popularized wild style on the French graffiti scene. Le M.U.R. presents 24 urban paintings every year, and it's always a mix of established and emerging authors. There have been many wonderful art pieces here this year, but the one of MIST, was the most exciting.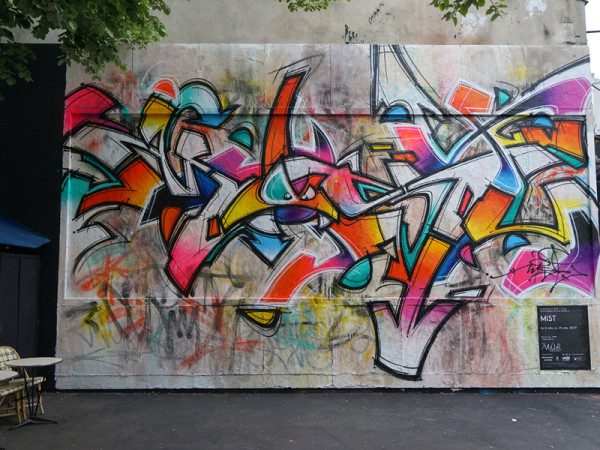 .
8.
Faith 47 – Joel Knafo Gallery
We have met this incredible South African artist this year during our tour in Montmartre. She was realizing this awesome mural thanks to the invitation of Gallery Joel Knafo. This artwork represents her current thoughts and fear of the new wave of nationalism that is visibly rising across the whole globe. Instead of three colours of the French flag that are supposed to symbolically represent here: equality, liberty and fraternity , all flags are entirely white. It is also a pun on artist true name – Liberty.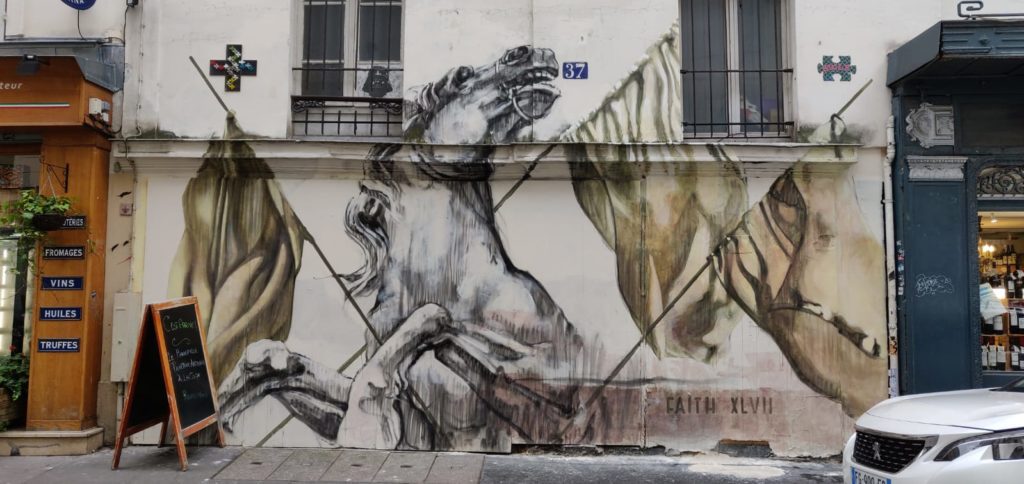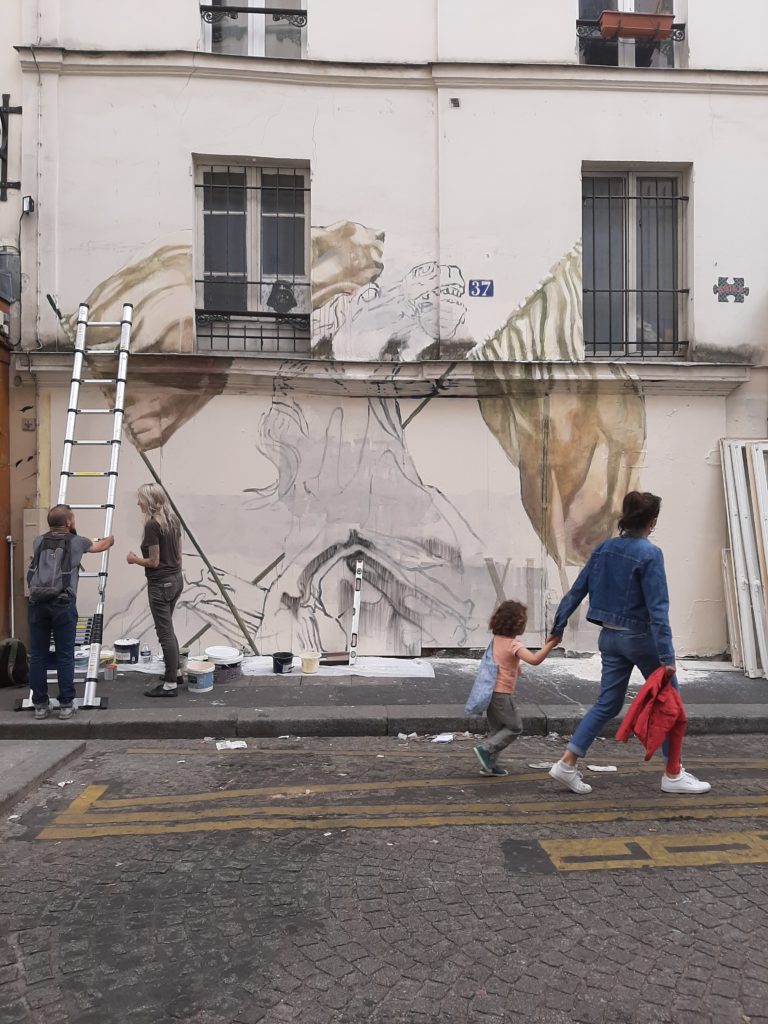 .
7.
Popay – Art Azoï
Here another pioneer of French street art scene. Even though the artist is originally from Barcelona, he grew up in Paris and started painting on walls already in the 80s. We doubt there is anything he can't do. He started with letters and figurative drawings, but now his works are getting more and more abstract. We love this new geometrical approach to his muralist style. It's very original!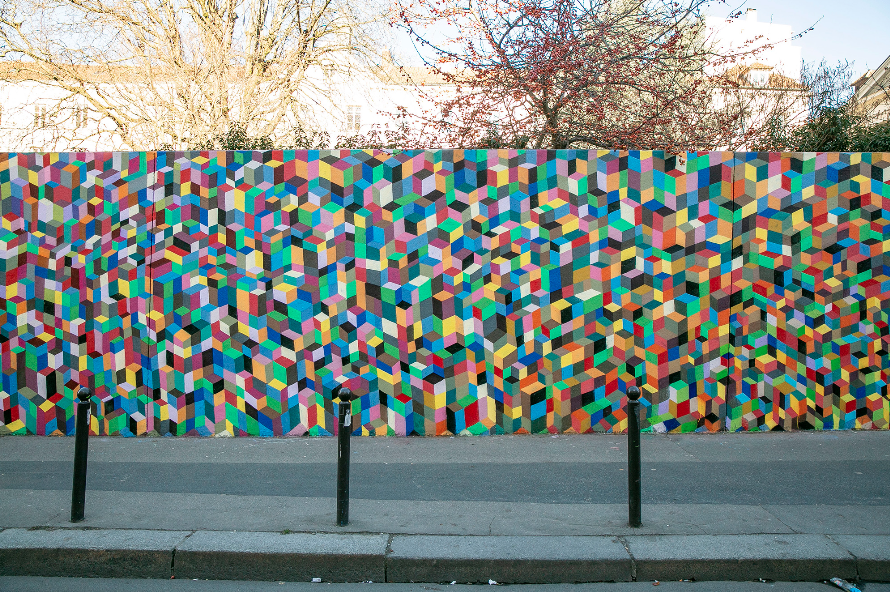 .
6.
JR – Pyramide du Louvre 
One of the most talked-about intervention this year was definitely the big paste-up over Parisian Pyramid. Louvre has already developed a friendship with the French street artist/photographer back in 2016 when he made the Pyramid disappear. This year he invited 400 volunteers to help him with an even bigger project. Over 800 hands, 17.000 m2 of paper, 4 days and the mystical illusion was created. All of this to celebrate 30th birthday of the structure designed by Ieoh Minh Pen. Despite the fact that the paper was entirely removed by the crowds in just 5 hours after the inauguration, the impact was still remarkable.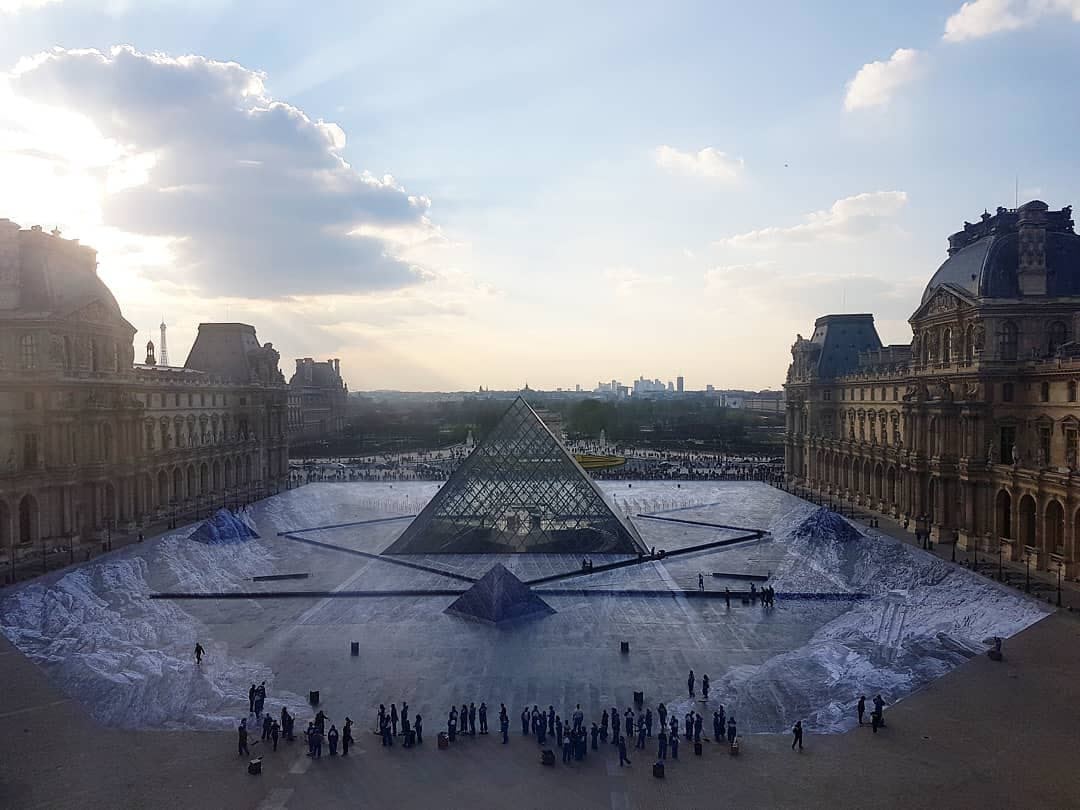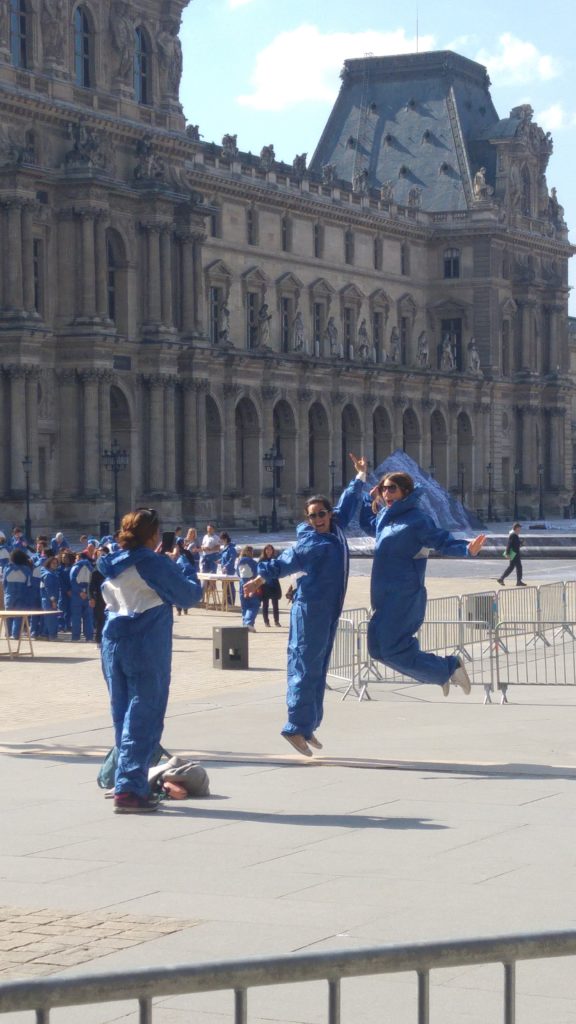 .
5.
Monsieur Bonheur and One Max – Rougier&Plé 
This mural made us extremely happy. It is a beautiful tribute to women who are portrayed here as superheroes, but it is also a reference to the wonderful art of Gustav Klimt. It was painted by duo Monsieur Bonheur and OneMax as a commission for art supplies store. We love it!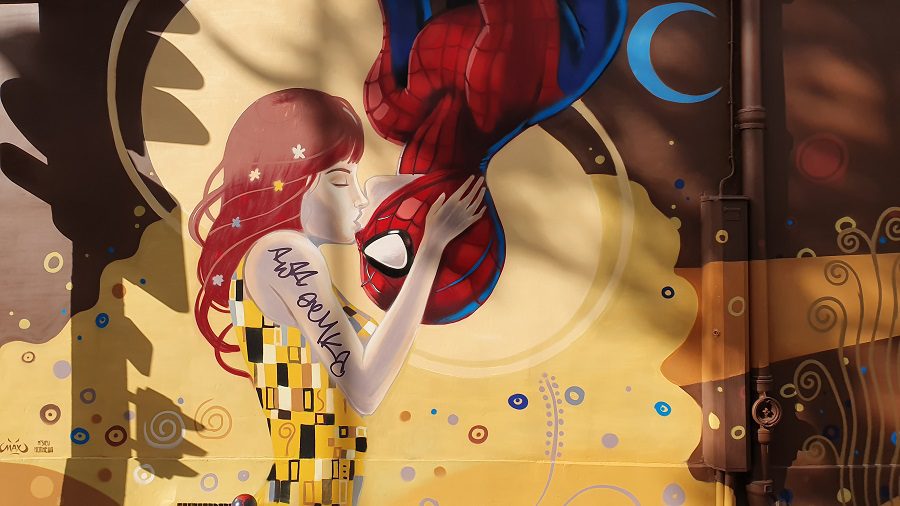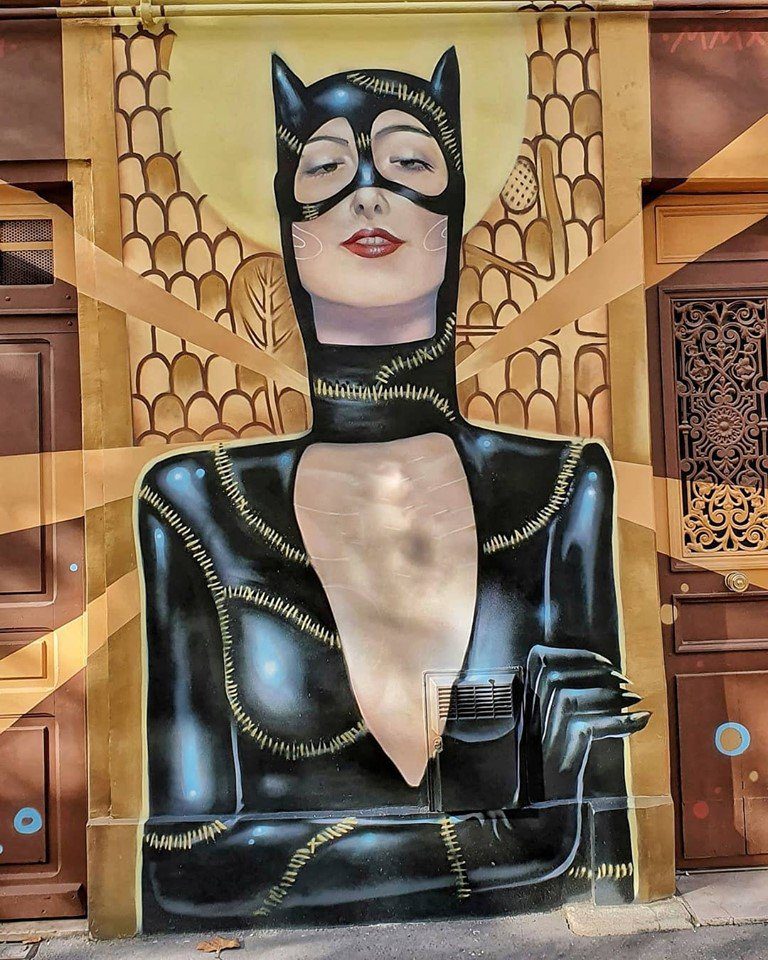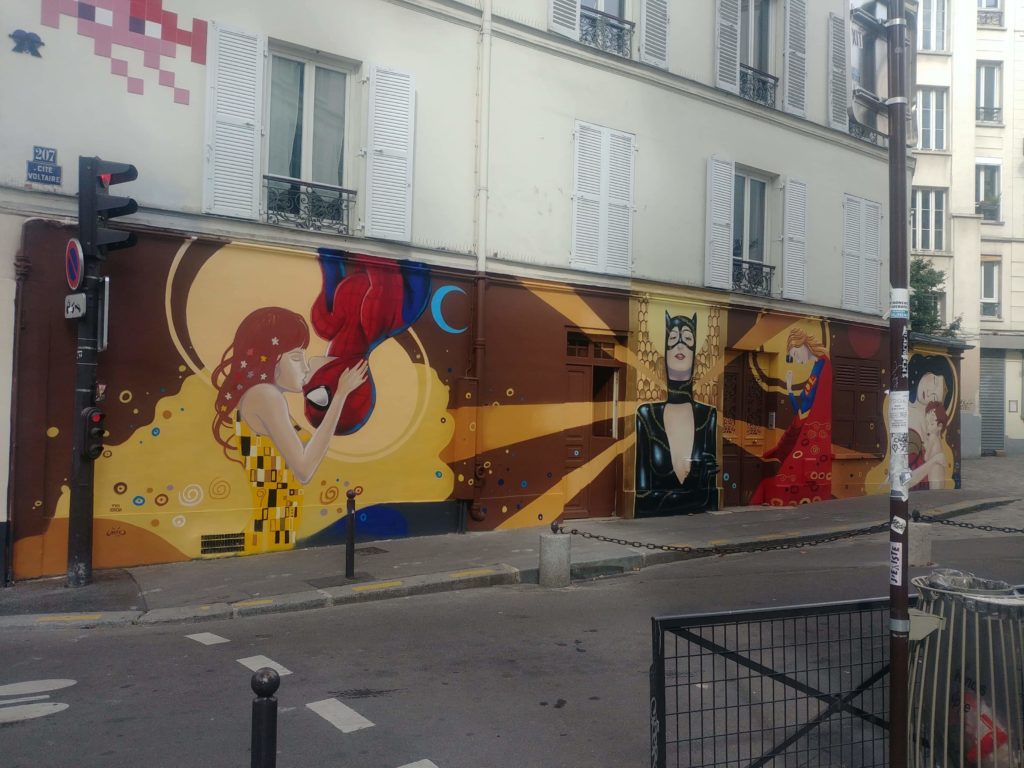 .
4.
C215 – Le Grand Siècle du Marais
Not one but several murals painted on electrical boxes were the part of C215 project in Paris historical district – le Marais this year. The series of portraits reminded us of some of the most iconic characters who used to live in this neighbourhood. 
Artist, whose real name is Christian Guémy, made a big entrance in the street art world in 2008 when together with Banksy and many other artists he decorated a tunnel at Cans Festival in London with his unique style of stencils. Today, he is one of the most popular stencil artists in the world. He lives and works in the suburbs of Paris.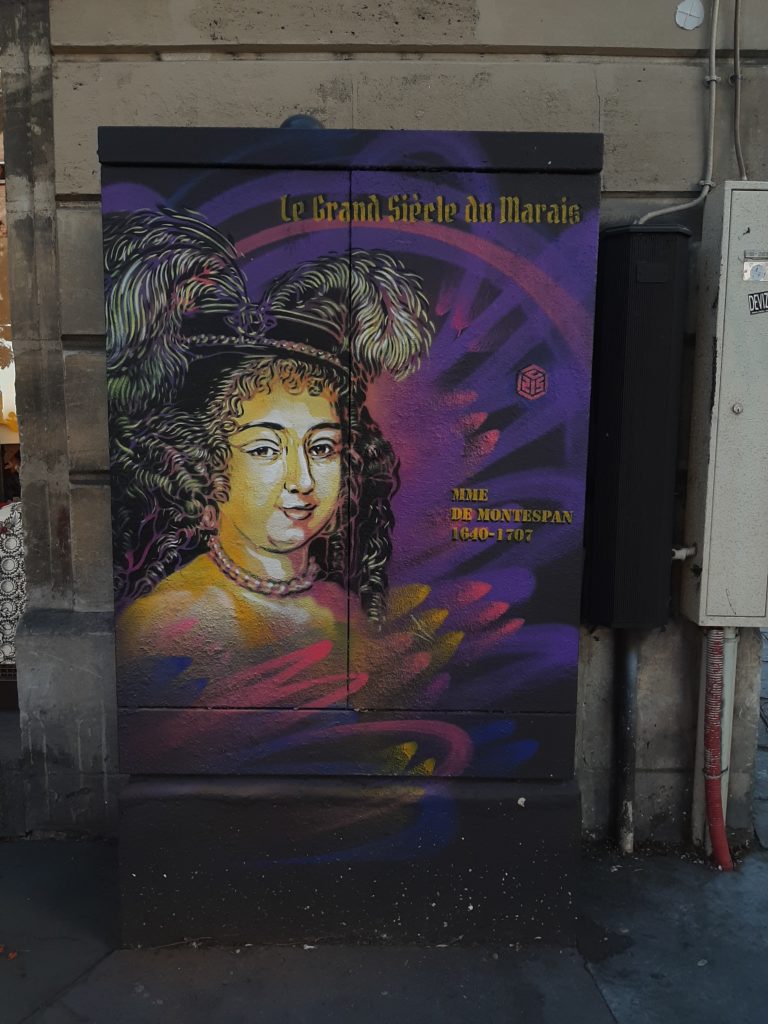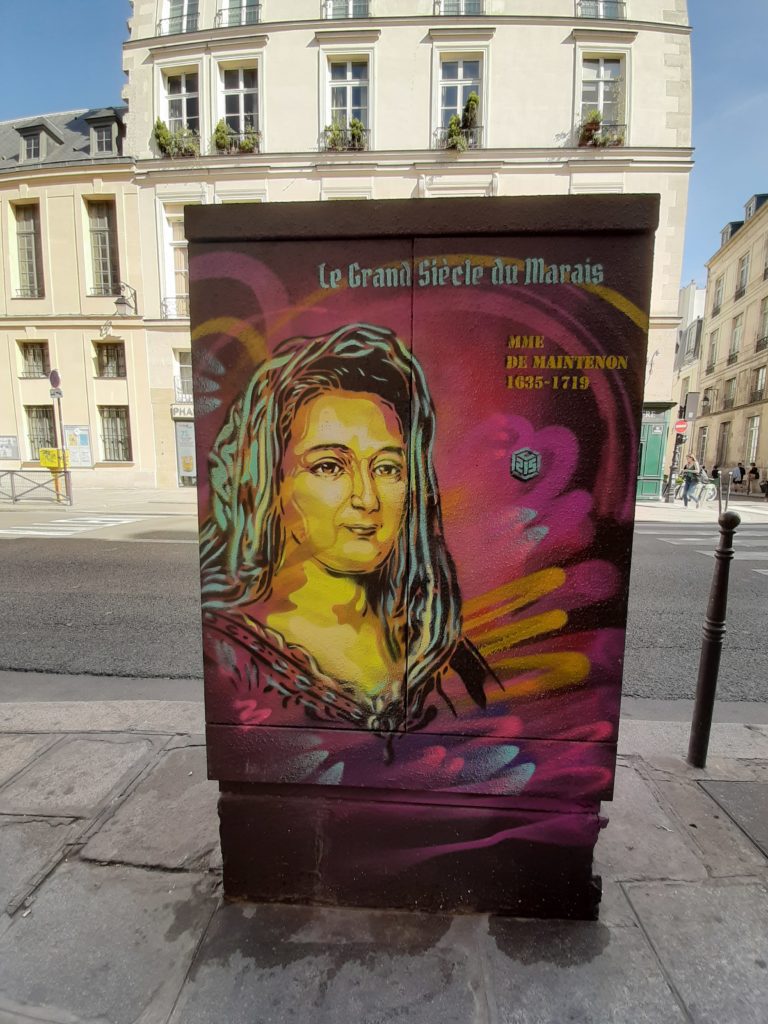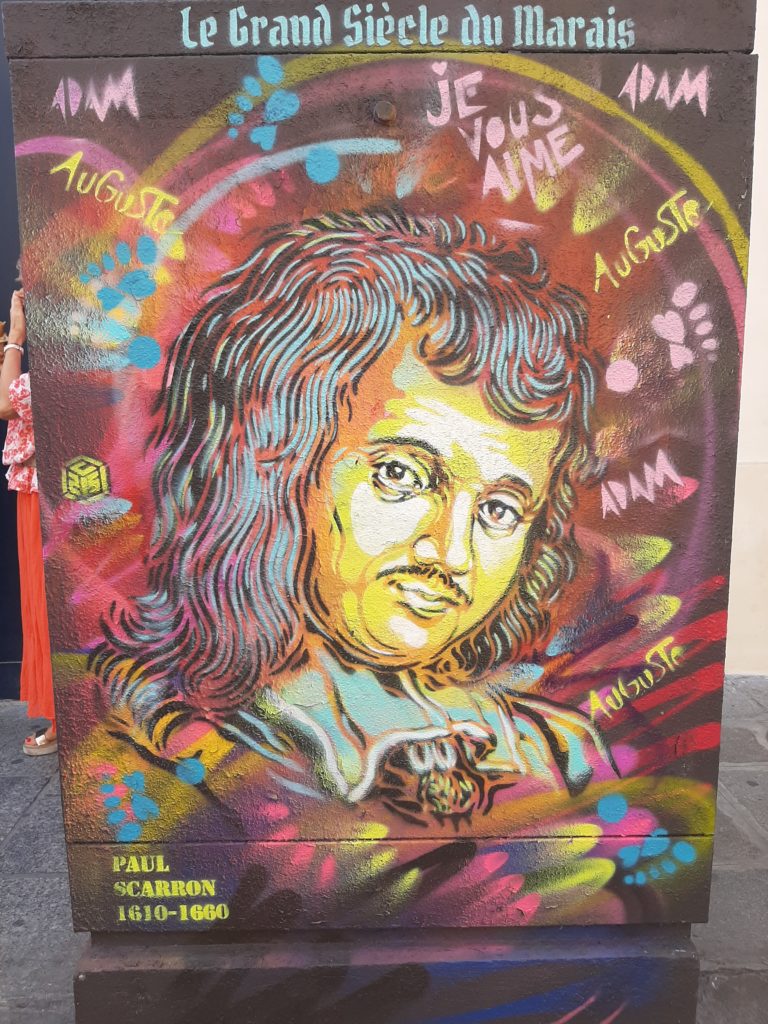 .
3.
Bordalo II – Gallery Mathgoth 
We were very lucky to welcome Portuguese artist Bordalo II in Paris this year and admire his incredible exhibition at Gallery Mathgoth.  During his stay artist realized 2 excellent installations in 13th arrondissement. Bordalo II made his name by forming large animal portraits entirely from recycled trash. It looks amazing but it does more than that – it is a reflection on our over consumption and massive trash production that leads to the extinction of many of those wonderful creatures.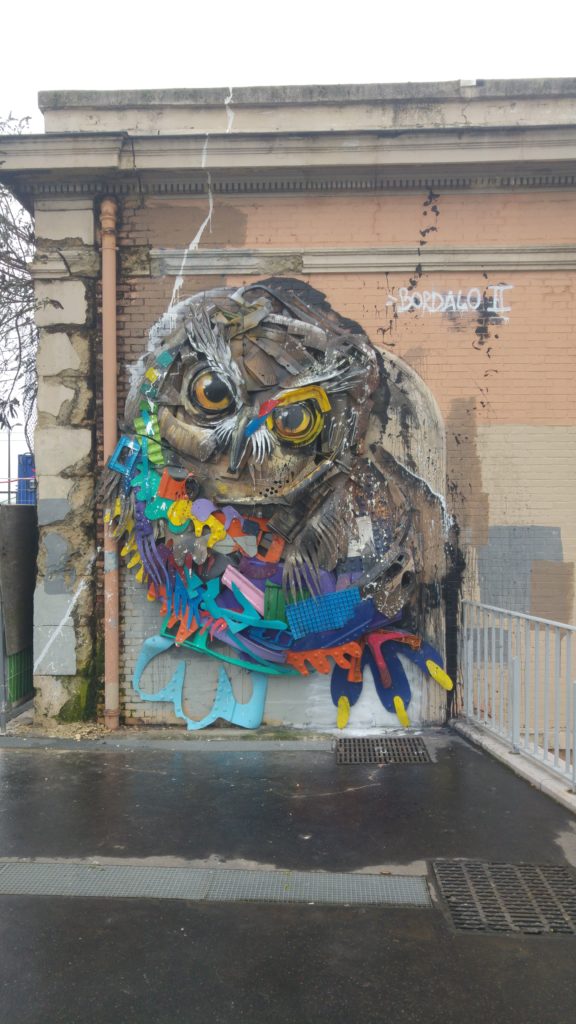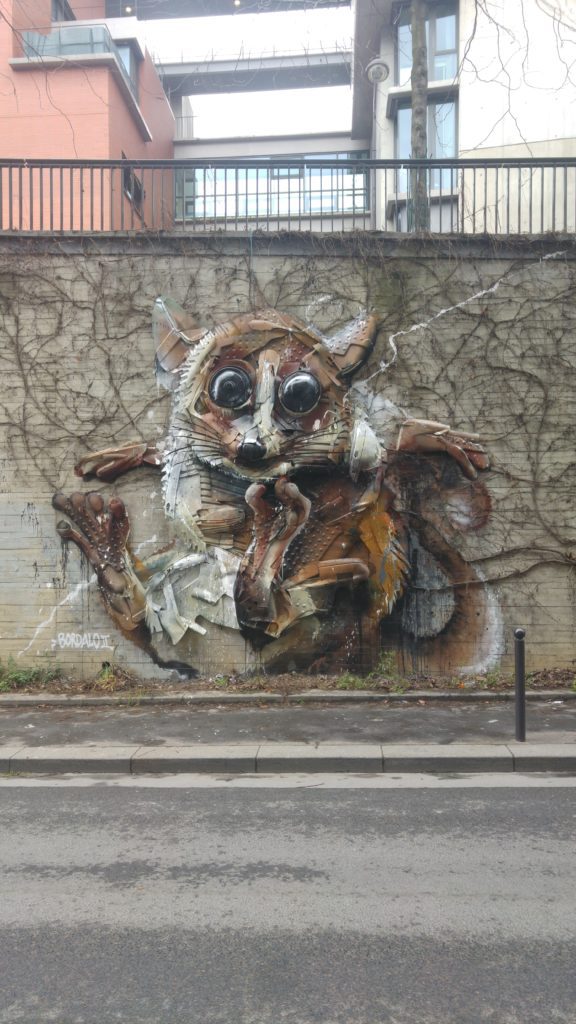 .
2.
Space invader – Gallery Itinerrance and Eiffel Tower
Space invader was quite busy this year. He shocked us not once but twice. First in November when he convinced Eiffel Tower to let him legally paste one of his aliens on top of the last floor of the Paris most celebrated landmark. The second time, more recently, when we realized his so far largest mosaic in front of Stravinsky's fountain with the help of Gallery Itinerrance. Both oeuvres are worth 100 points in the Flash Invaders app.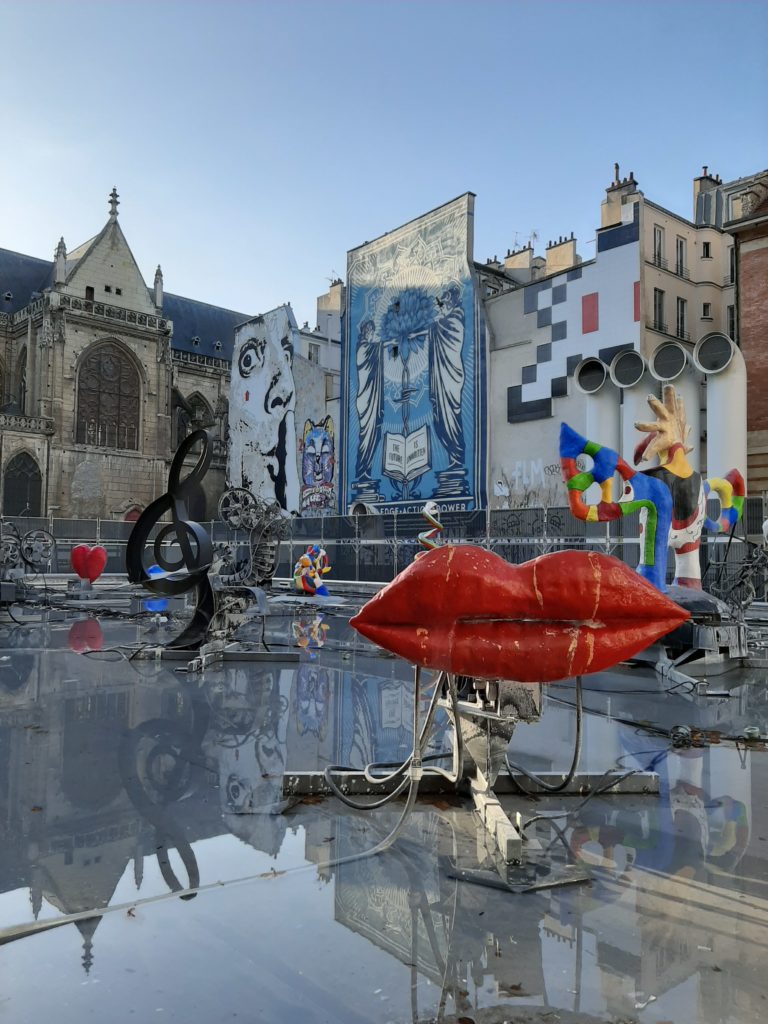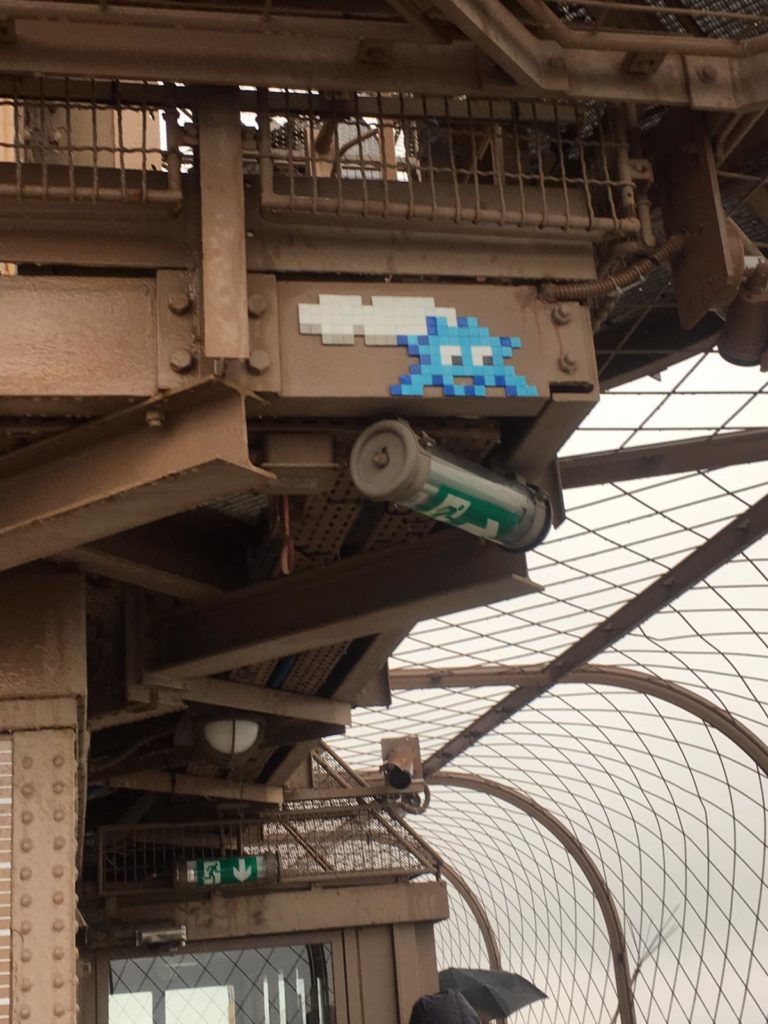 .
.
.
And finally…
.
.
.
the best artwork of 2019 in Paris…
.
.
.
is…
.
.
.
.
1.
Saype – Champs de Mars !
This piece lasted only a couple days as it was painted with biodegradable paint on the grass of Champs de Mars. It symbolizes solidarity with those who save the lives of the migrants travelling by the Mediterranean Sea. Read more about this project in our previous post, here.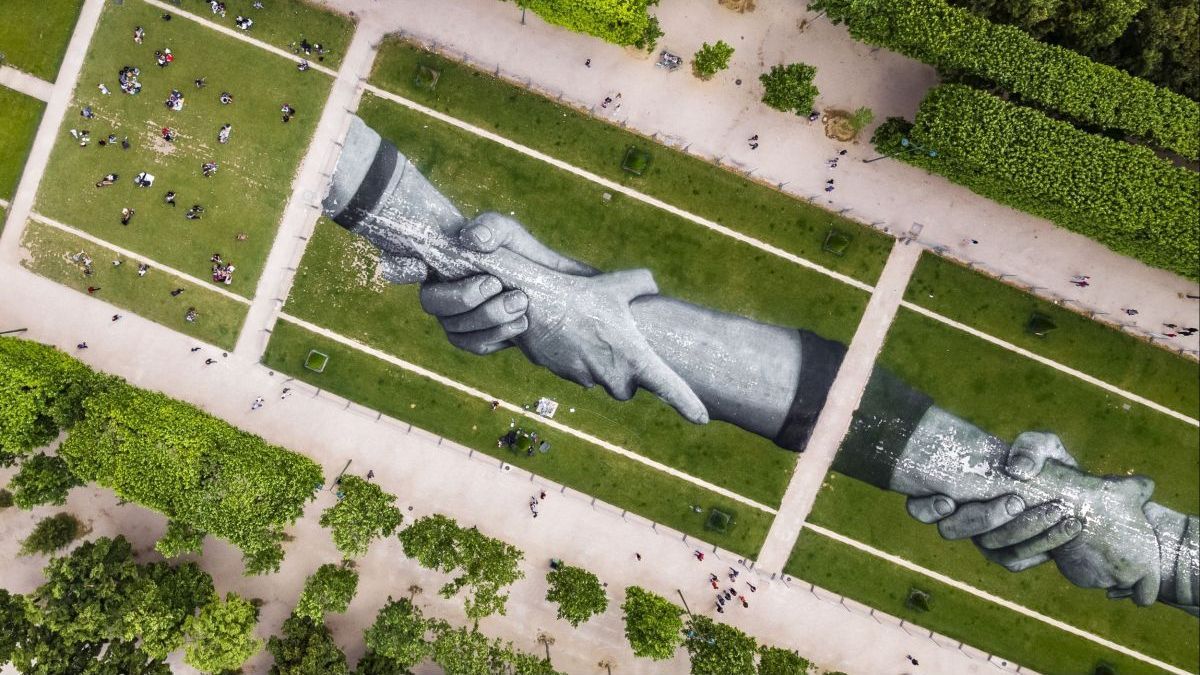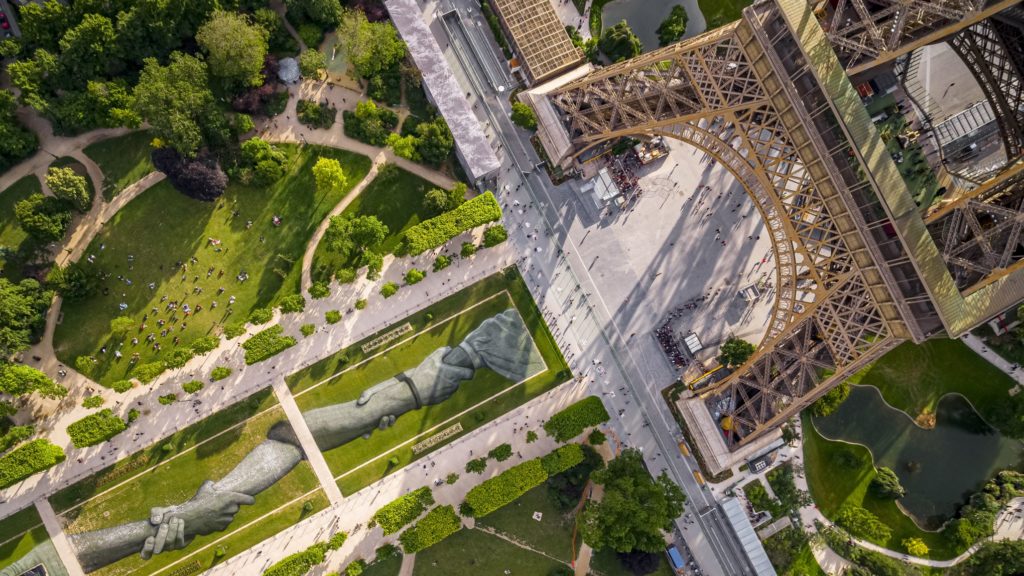 Other memorable mentions from this year: 
Hopare in le Marais: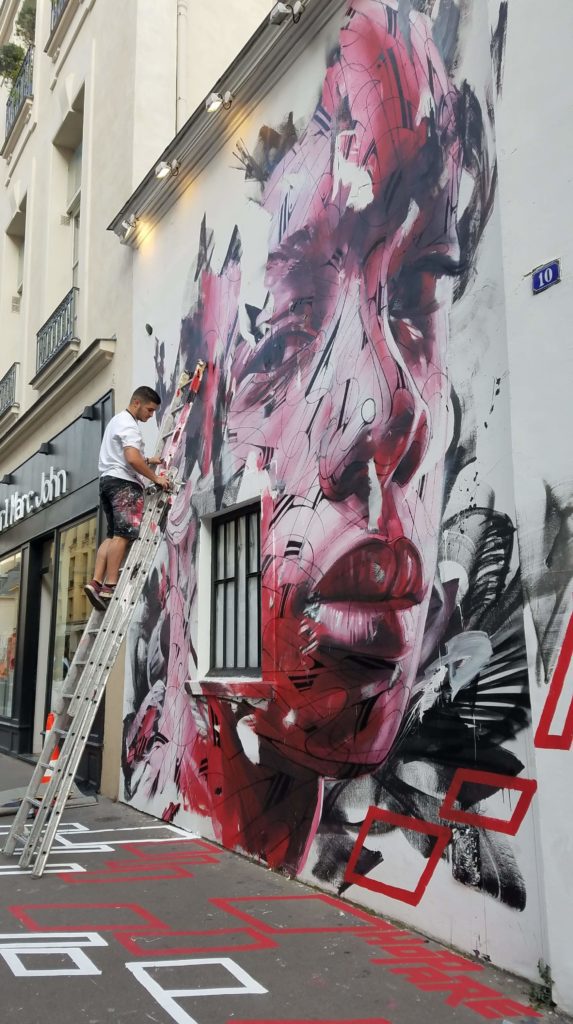 Zlotykamien in 13th: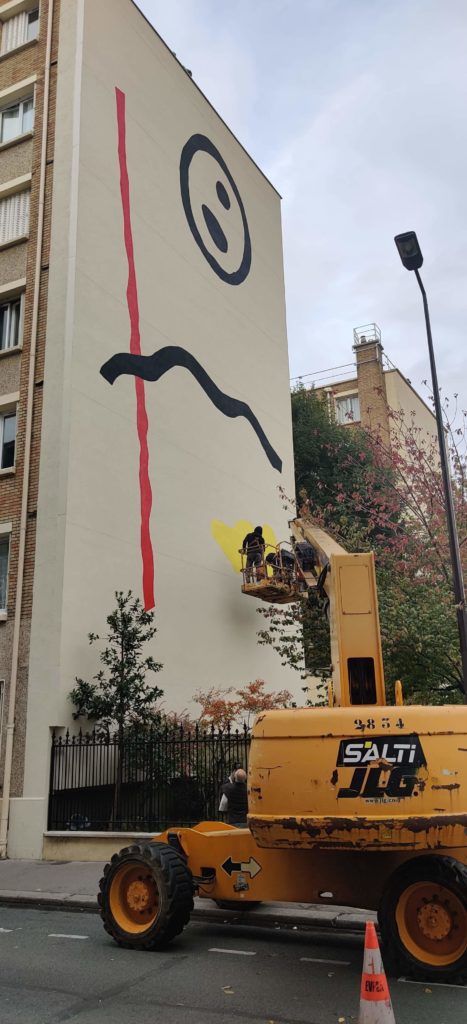 Hownosm and Hush in 13th: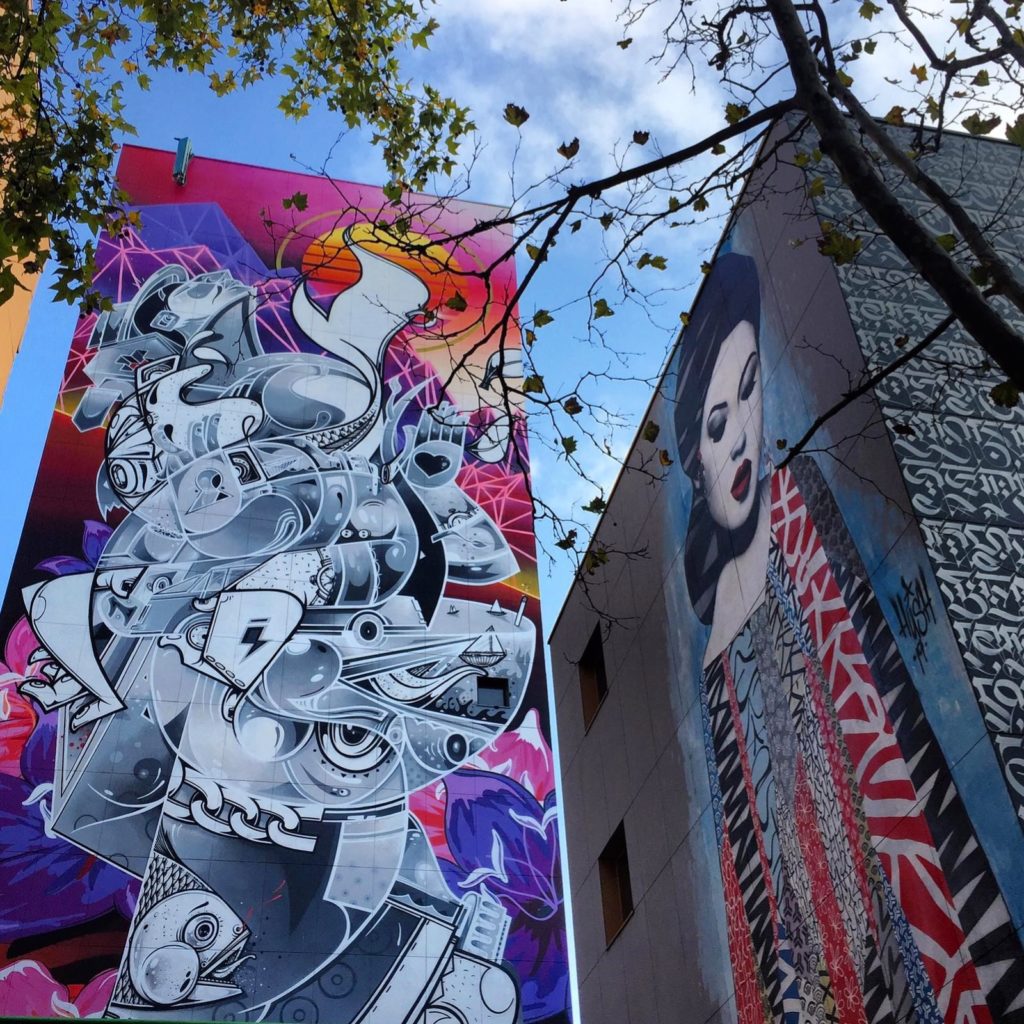 Swed Oner in Montmartre: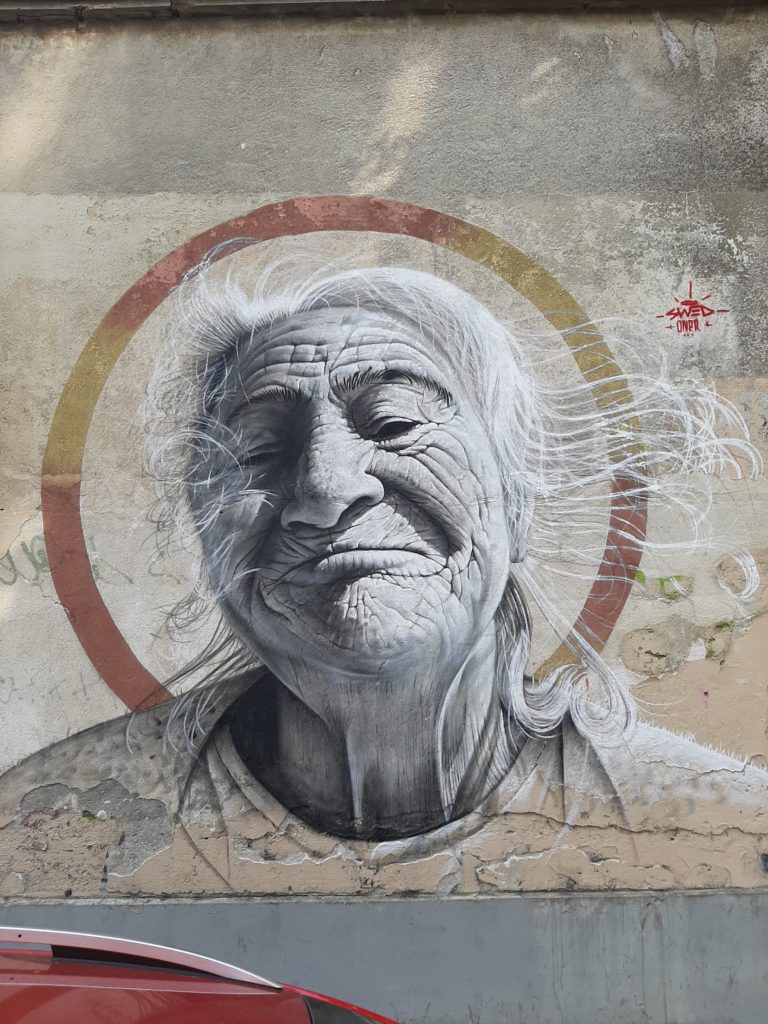 Daniel van der Noon in le Marais: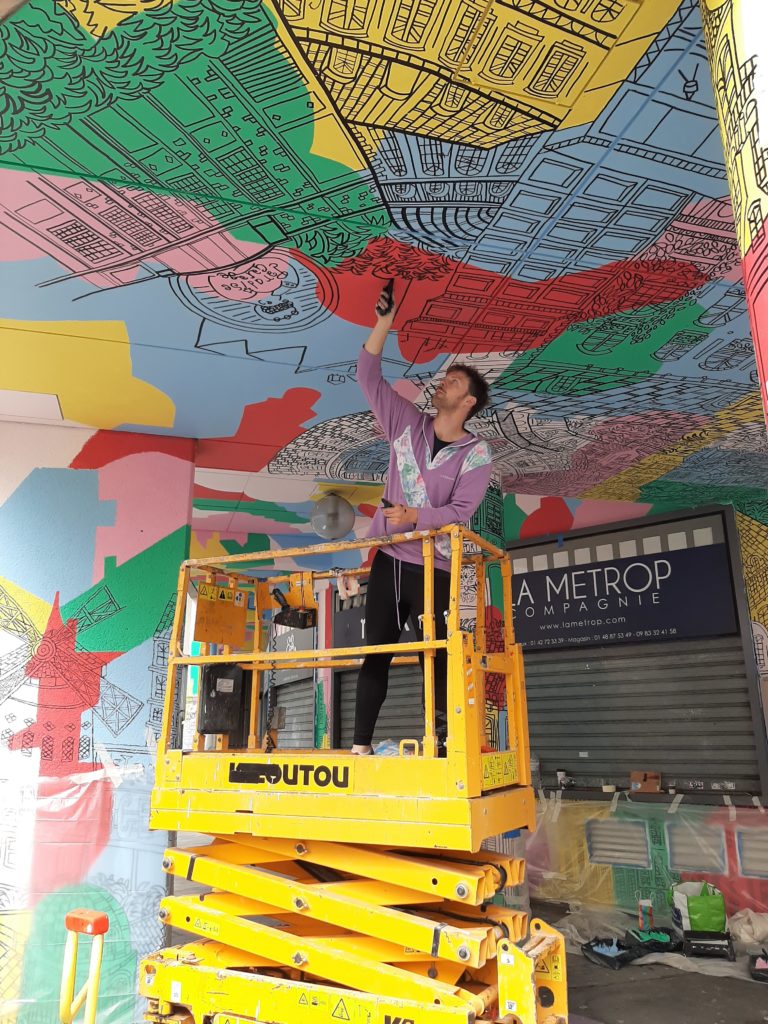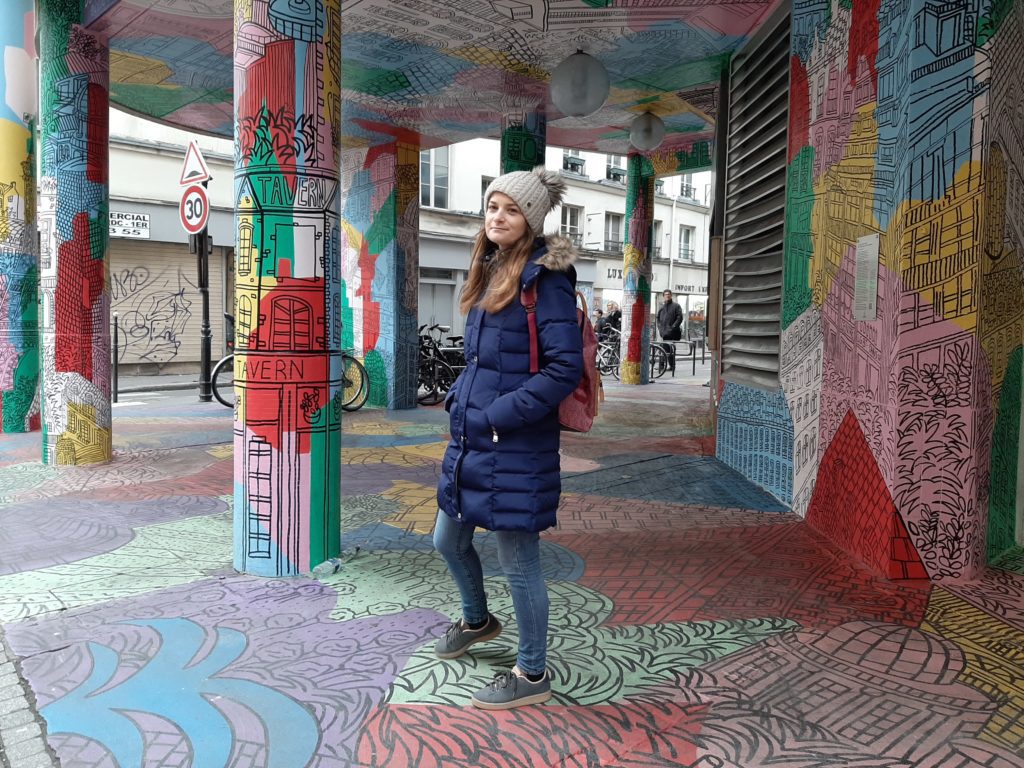 Vhils at La Défense: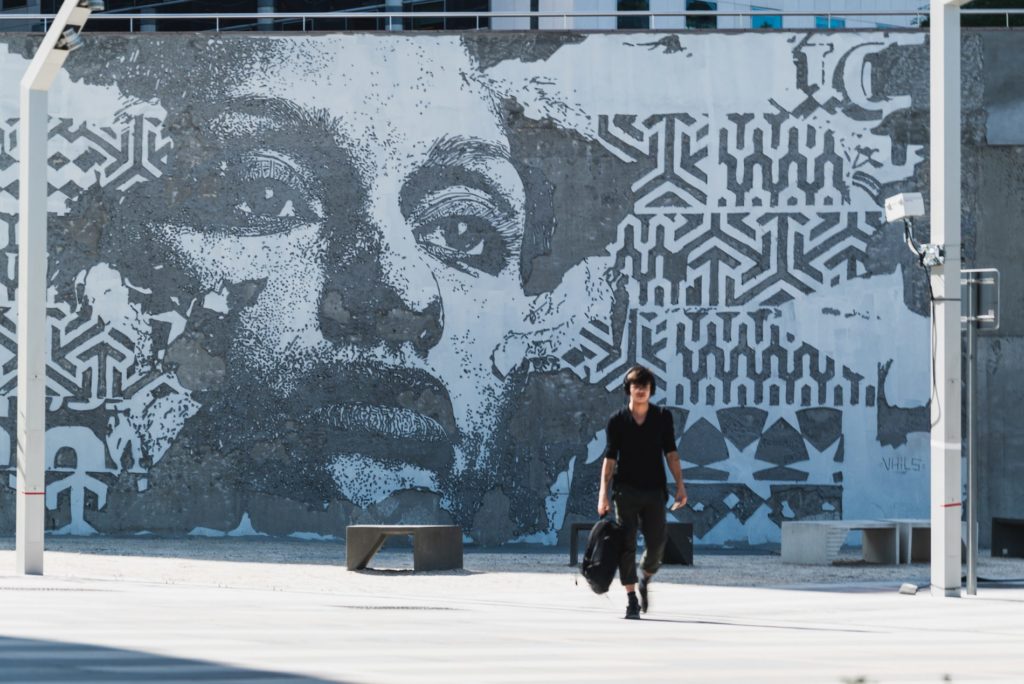 Obey in le Marais: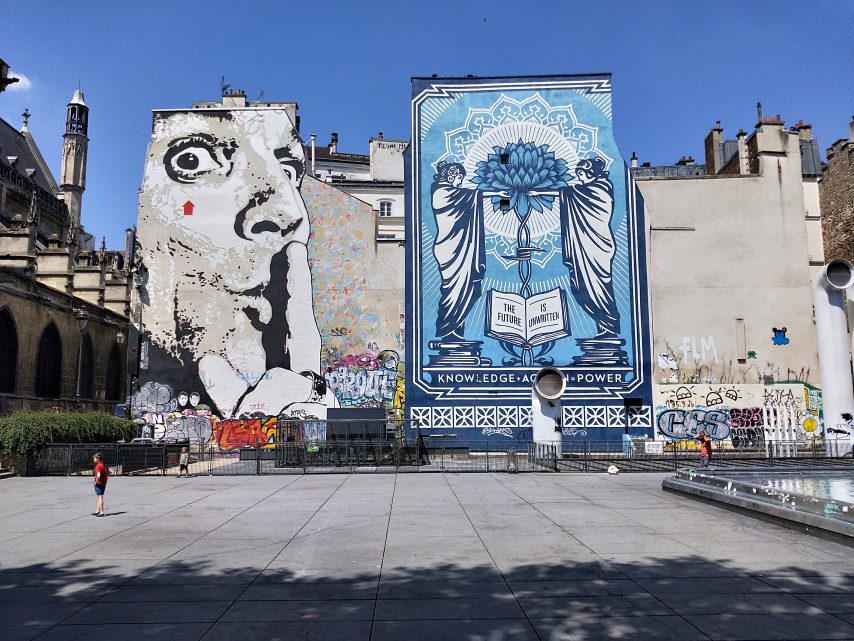 This list is based on subjective opinion of our team. Do you agree with our choices? What other works would you add to our list? Let us know in the comments!
Written by : Kasia Klon